Jumpsuits are one-piece garments with sleeves, legs, and without coverings for feet, hands, or head. Jumpsuits are generally regarded as garments of convenience because they're simple to put on.
The jumpsuit was first created in 1919 to be worn by skydivers, hence the term 'jumpsuit.' It was introduced by Elsa Schiaparelli, a rival of Coco Channel, as a fashion piece in the late 30s. She created a collection of jumpsuits inspired by the coming war, which included a women's jumpsuit cut from green silk with large pockets.
Jumpsuits achieved hyper popularity in the 70s and were worn by both men and women alike. They were a popular look amongst the disco scene. Jumpsuits, now known as Rompers, were a rocking trend for men back in the 70s.
WHAT DID MEN WEAR IN THE 70S
The 70s fashion was about individuality and expression; this led to the breaking down of traditional fashion rules. There was a breakout of unique and daring fashion styles for both sexes. Fashion for men in the 70s was divided into several fashion groups; Disco, Peacock, Soul, and Hippie.
Despite the division in men's fashion in the 70s, there was still overlapping in style. A man could be part of the hippie subculture or peacock revolution yet, and it was likely that they'd wear bright colors and bell-bottoms no matter what fashion category they belonged.
Disco Fashion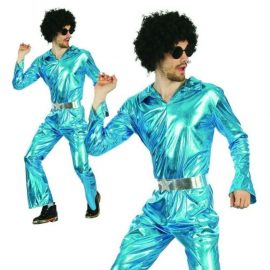 Disco fashion could be seen on both men and women on the dance floor in hot pants, jumpsuits, and platform boots. Bell bottom jeans by Vanderbilt and Fiorucci offered a more sedate variant, while shirts were still worn unbuttoned. Silk nylons by Qiana, introduced in the late 60s, were used to make shirts and ties for men in the 70s. Spandex, Polyester, and Jersey shirts were famous disco outfits that shone under discotheque lights.
The Hippie style was one of the most significant styles of the 70s, though it started developing in the 60s. Items like tie-dye tops, headbands, embroidered folk designs, and flowing gowns became the mainstream fashion.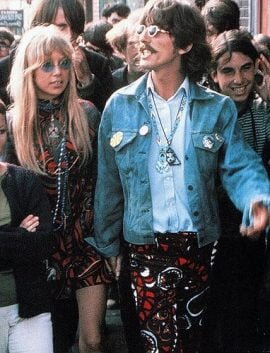 The 70s hippie male wore denim jackets and tie-dye tops and headbands and opted for homemade accessories such as beaded necklaces and bracelets. 70s Hippie males could more often than not be seen in the combination of long hair with bell-bottom jeans, brightly colored shirts, and platform shoes.
Hippie influence brought a touch of southern style to men's footwear. Men seeking a more solid boot shied away from vinyl platforms in favor of the leather cowboy style.
The 70s also saw men go for thick and fine knitwear in multicolored geometric prints and patterns. Corduroys were also a must-have for fashionable men in the 70s, especially corduroy suits.
Peacock Style
Due to well-paying jobs and good businesses, the 70s saw men begin dressing in more unconventional ways. This group of young, unconventional dressers made up the peacock fashion group. The peacock style included unique outfits with bold and bright colors.
Peacock looks usually included satin shirts, ruffles, tunics, turtlenecks, Cuban heeled boots, bottoms, and braided belts. Suits also featured bright colors and unusual styles.
JUMPSUIT FROM THE 70S
70s jumpsuits were the entire rave. Jumpsuits from the 70s enjoyed a wide range of applications, from being worn as formal wear during evening outings to casual wear.
Disco jumpsuits of the 70s were designed with bold colored patterns to fit into any themed party. These jumpsuits were usually made of sequins or velvet materials.
The 70s sequin jumpsuit matched with a pair of platform heels was the perfect disco party outfit. Classic black jumpsuits with wide legs, long sleeves, and a deep V neck were worn to present a sophisticated style, while a white halter neck jumpsuit with a gold belt was worn as a casual outfit and was a more common option.
For the day-to-day look, people usually favored the denim or broiler jumpsuit. Denim short jumpsuits could be paired off with colorful visors and scarves to present a cool casual look. For summer or a yacht party, a sequined romper with short or long sleeves and sparkling metal fabric or sequin was favored.
Jumpsuits in the 70s were not only worn as outfits made for nights outs. By the late 60s, women started wearing them as outfits used in welcoming guests at home. Jumpsuits were considered more practical and comfortable than dresses, and soon they went mainstream and were worn by women everywhere to parties and leisurely.
A typical jumpsuit from the 70s was always flared in the legs and had bell sleeves though sleeveless versions were also popular. Pop stars like Elvis, Cher, and Abba adopted jumpsuits as their signature style while other celebrities like Diana Ross, Liza Minelli, Farah Fawcett had their various jumpsuit moments.