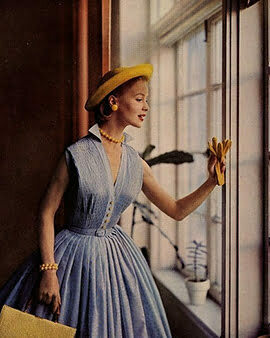 They called it the roaring 50s for a reason. It was the time when the love for music and dancing was at its peak. People loved going to dance classes and clubs to bust a move or two as they said so back in the day.
This was the era where the 1950s swing dress originated from. The Swing Dress was a huge hit at Lindy Hops because it encouraged women to move easily on the dance floor whilst looking elegant. The long skirt shifted with the performer, helping them to show a little skin at the same time.
These fun and flirty dresses from the fifty's influenced dresses with a traditional full rounded skirt in all shades and designs. They could be paired with a petticoat for a romantic feel. They also exuded a retro vibe.
Different kinds of swing dresses have been available for various occasions such as gatherings, concerts, rock n roll party gatherings, celebrations, and even clothes to go to work.
Furthermore, people of all shapes and sizes could dance hop and look good in this dress as it worked for both regular and plus-sized females. Dancing in these dresses was super fun as their rounded flared skirt looked really pretty while spinning.
If you're curious to know more about this super fun and attractive attire from the 50s then you've come to the right place. We will give you a detailed insight into all you need to know about the vintage swing dress.
Flattering Dress Design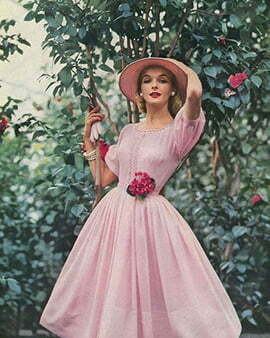 The 1950s swing dress was flattering for women of all shapes and sizes. This is because of its brilliant design that suited people of all body frames. The vintage swing dress is an amalgam of semi-formal and feminine style.
It usually had an A-line or a full flared round skirt. Along with a fitted bodice that could also be a bit loose fitted to accommodate the plus size women. However, it always looked flattering on them as well even with a loose fitting.
The dress was the perfect combination of modesty and fun as it hid the wide calves of the plus size women perfectly well and it accentuated their curves in the right places while allowing them to show a little skin as well.
The necklines were quite diversified. They came as halter tops, V necks or other kinds that were sometimes adorned with a collar as well. The lapel collar combined with V neck was quite a popular design for these dresses.
The Sleeves came in a vast variety too. The dress could have sleeves ranging from cap sleeves to three-quarter sleeves or full sleeves. All of them looked equally amazing and suited the plus size women very well.
However, the plus size women were recommended to wear more skin covering sleeves as they made them look thinner.
Vibrant Patterns and Designs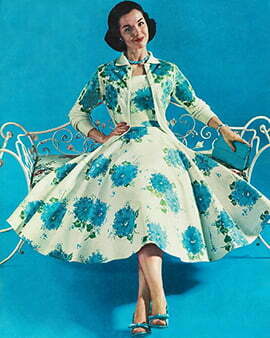 Another aspect that made the swing dresses stand out was the variety of patterns and designs they came in. The most famous swing dress patterns were gingham, polka dots, and checks.
Other than that floral swing dresses were also quite the rage in the 50s. However, for plus size women, dresses with more longitudinal lines and prints were preferred as they made them look slimmer.
Attractive Colors
Colors also have a major impact on the overall look of the outfit. It is commonly known that the dress you choose should have a color that complements your skin tone and hair color.
Apart from that, dark colors can really make a plus-size person appear thin. Therefore, the swing dresses for plus size women usually came in darker shades. A black swing dress was a divine classic and could be worn on formal events as well.