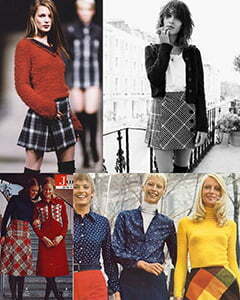 The fall season is right around the corner. Fall or autumn is one of the four temperature seasons of the year. This season marks the change from summer to winter. The duration of daylight becomes shorter and the temperature becomes cool.
During the fall, we experience shorter days and longer nights. It is always between September and December. One characteristic of this season is the shedding of leaves from trees.
The first thing that would come to mind during the fall season is usually the thought of getting bundled up and dressing cozy. Though fall may seem to require putting on ankle boots and cozy sweaters, you don't necessarily have to abandon the high hemlines yet. Your mini plaid skirt can fit in for all seasons. It just depends on how you choose to style yours.
The 1960s was known for bringing in great fashion styles that continue to be in vogue today. In the 1960s outfit ideas, one of such fashion trends that accompanied the year and stayed behind is the popular plaid dress for the fall season. The women proved that the fall season does not have to be all about getting all bundled up simply because the weather is cooler.
However, there's no perfect 1960s outfit for fall rather than a plaid skirt. It is extremely fashionable; and depending on the style, you can pair it with boots, heels, or flats.
A plaid skirt can effortlessly transition from day to night, but the question remains – with what should you pair your mini plaid skirt? You can wear it with a plaid blazer, with a button-down shirt, or with an oversized sweater.
PLAID SKIRT WITH A MATCHING BLAZER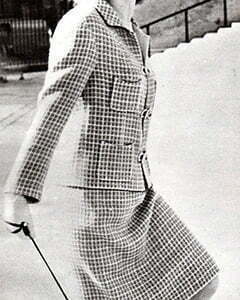 A mini plaid skirt goes well with a plaid blazer of matching colors. Go for the skirt and blazer sets to have colors that match. For your camisole or innerwear, go with white, black, or whatever color dominates the background of your plaid set. Dressed like this, you're most definitely good to go.
60s PLAID SKIRT WITH TRENCH COAT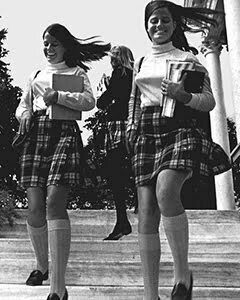 A classic trench coat is a perfect addition to your mini plaid skirt. The combination makes it very suitable for both the fall and winter seasons.
60s PLAID SKIRT WITH COLLARED SHIRTS
To make it more fun, go for a white button-down shirt with your plaid skirt. With this, you attain a perfect look that makes it suitable for both workdays and dinner nights.
Vintage PLAID SKIRT WITH LONG SLEEVE SHIRTS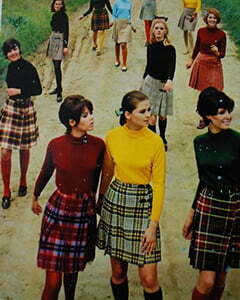 If you want your plaid skirt to make a statement, go for the seasonal long sleeve shirt. It supports the prints on your plaid skirts perfectly well. To cap it up, go for a pair of colorful sneakers and a graphic T-shirt.
1960s PLAID SKIRT WITH ANYTHING BLACK
When the weather is extremely cold, you can opt for a pair of black tights, a black top, and black flats to spice up your mini plaid skirt look. It keeps you warm, yet looking classic and fashionable.