What were the 1930s dresses called?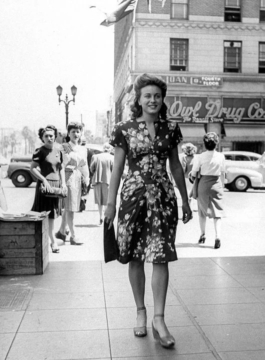 The 1930s were marked by the Great Depression and World War II, but fashion thrived nonetheless. New designs for ladies, men, and even children were influenced by glamorous Hollywood cinema stars.
Women wore dresses with wide shoulders, puffy sleeves, modest necklines, taller, belted waistlines, and mid-calf flared hemlines at home and in public. Dresses were frequently embellished with frilly bows, ruffles, buttons, and other embellishments.
Women in the 1930s ditched their pantsuits, grew their hair long, permed it, and colored it a dazzling blonde, wore a lot of silk, fur, and velvet, and idolized very ladylike movie stars. Women never did crawl back into those corsets, but femininity had returned to the scene in 1930s fashion.
Dresses with huge yokes or collars, midi-length bias cuts, puff sleeves, belted waists, and large yokes or collars. Backless, sleeveless, long bias-cut gowns from the Golden Age of Hollywood.
These 1930s dresses were usually silk or rayon crepe, not cotton, and were referred to be "city," "metropolitan," or "town fitted."
What are the characteristics of the 1930 dress?
Although the silhouette of the mid-1920s was flat and simple, with hemlines just below knee length, by the end of the decade it had begun to come down, and daytime skirts were mid-calf length as the 1930s began. They fell an inch or two lower before rising to just below knee length by the end of the decade. Skirts were floor-length for evening wear.
Day and evening wear in 1930s fashion was adorned with flounces and lace. Tailoring was popular, and the silhouette was triangular, with shoulder pads in both dresses and suits.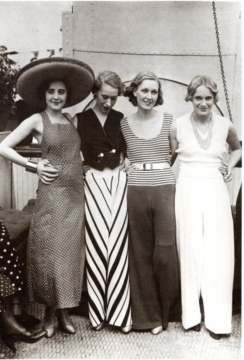 The characteristics of the 1930s dresses were unique;
Darted around the bust and fitted around the hips
1930s dresses fell to a straight skirt with gentle flutes created by the insertion of bias-cut panels or pleats.
Sleeves were worn with cap, elbow, and wrist lengths, with volume at the top and narrowing towards the wrist.
Interesting necklines were essential, with collars and cutouts, mock jabots, draping, frills, bows, buttons, and fasteners to add interest.
Skirts were sometimes embellished with buttons, waterfall flounces, and frills.
The elegant Garbo appearance has replaced the Clara Bow flapper look, as the new rage. The tall and thin shape features broad shoulders, a modest chest, streamlined hips, and a regular waistline.
Hair and hemlines are both longer in 1930. The narrower skirts spread delicately below the hips before coming to a halt at mid-calf.
The new fashion in 1930s.
Suede gloves with matching bag and shoes, a red or gray fox fur (flung over one shoulder), batik scarves, huge jewelry, and gem-set watches are among the new fashion accessories in 1931.
Hats are very popular among women. They are deep and close-fitting in 1931, with both large and small brims, and ladies like to wear them to cover one eye. Women's hair is styled with a side part and is slightly longer and carelessly wavy. The black silk design with ankle strap and the white suede style with a T-strap are both fashionable shoes.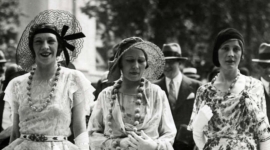 The bias cut was the most important fashion breakthrough of the 1930s. Although it was used for daywear, it was most known for its use in slinky, flowing evening dresses and lingerie. Bias cutting, made popular by couturier Madeline Vionnet, is an expensive technique that requires the fabric to be cut at a 45-degree angle, allowing for fewer pattern elements to fit on a single piece of cloth. However, the effect is spectacular, as the cloth softly stretches and molds to the body. The outcome was lavish satin evening gowns inspired by the draperies of Greek gods
The summer hairstyle is a blue and white plaid rayon dress with a sashed belt and bow collar, with flowers, ribbons, and quills in the hair. The pillbox, toque, trimmed turban, and Basque beret are all fashionable headwear (worn on the side like Marlene Dietrich). In 1932, Chanel's cotton evening gown was a huge hit.
At home, housewives wore functional house gowns made of brightly colored cotton (including flour and feed sackcloth). The "Hooverette" house dress, a reversible wrap design, was a smart variant. Day dresses for public wear were more fitted and attractive and were frequently made of silk or rayon crepe. Blouses were worn by some ladies with skirts.
The willowy, graceful style of the decade was most vividly exhibited in formal dresses. Evening gowns were cut on the bias to produce flowing, figure-hugging lines that stretched to the floor. Satin, rayon, and chiffon were popular fabrics.
Hollywood actresses Katherine Hepburn and Marlene Dietrich aided in the introduction of women's sports and leisure trousers. These trousers had a wide leg and a high waist and were frequently designed like sailors' pants. On vacation and at the beach, women wore baggier, more informal lounge pants. During the 1930s, lighter-weight, rubberized textiles replaced bulkier wool suits, giving birth to the contemporary swimsuit.