When it comes to blazers, wide selections of custom and handmade pieces are much available. However, vintage blazers with the touch of modern styles are in vogue. The 80's bold women blazers slowly disappeared towards the next decade. It paved way for the 00's styles of short and slim-fitted blazers and suits.
Now, with the major comeback of the 80's blazers styles, you have gotten even much more. They are more fascinating now than ever. It comes in styles and designs you cannot resist.
What do the 80s Blazers Look Like?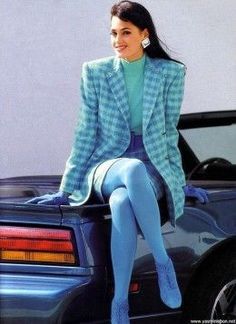 Each passing decade comes with a fashion style, and so it was even in the '80s. Before this time, women have hidden in their shells for a long time. When the restrictions on fashion style became loose, women took to power dressing. Wearing bold styles seems to be a way to get all the attention they have been denied.
With oversized blazers and high shoulder-padded suits, you cannot help but notice women more. Even with the already dramatic blazers, it still comes in colorful and shimmery fabrics and animal prints. For a calmer look, some blazers come in plain polyester, wool, and leather fabric. Although the 80's blazers look exaggerated, those who understand how to match them make heads turn.
How did Women Match Blazers in the 80s?
If we should go practical on this, it is ideal to look at the fashion styles of Whitney Houston and Madonna. They are some of the clear examples of icons that rock women's blazers flawlessly in the '80s.
While Whitney wears her blazers open or buttoned, with denim or matching pants, Madonna goes gaga with her style. For you to see where their loyalty lies, as fashion changes, they still cling to their blazers and only adjust the styles to suit the trend. For a formal occasion, the older adults wore Christy girl or Judy Knapp like blazers. Although the latter have a more stunning look, they match them with fitting trousers or wear them over gowns. The younger adults wore fancier blazers. For a more casual style, they may rock buttonless blazers, as it feels comfortable. However, they can match it with clean-cut jeans or a gown for a more formal look.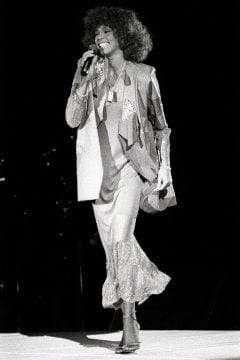 Also, Grace Jones's sharp-edge shoulder style blazers were very common, even though the 80's focused on more street fashion style. If you are still head over hills with the 80's style, you can imitate their dressing styles. You can match your blazers with denim and polo shirts, turtlenecks, or any other suitable blouse.
However, if you love the 80's styles with a flicker or modern designers, there is nothing wrong with going a little gaga with your matching style. You can combine them how you want. What matters is that you are enjoying the best of both worlds and love what you wear.
Conclusion
Designers have gone weary of modern-day fashion. However, the 80's bold and unarguable fashion styles seem to be the only thing to fall back on.
Therefore, you may start to spot oversize blazers and power suits more often. Even some celebrities have now resorted to the 80's fashion styles.
Well, that should be a reminder that the 80's fashion is here to stay and may not be leaving anytime soon.