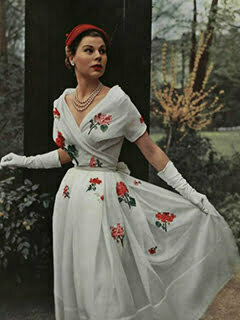 White dresses have always and will always be in trend. They are always gorgeous and help you with your desired enduring appeal by keeping you bright. The vintage outfit pretty much works for any occasion. The hot trend also prepares you for the spring and summer seasons.
Classic white outfits no matter the fabric comes out beautiful. Figures, complexion, height, or age also do not restrict the trend. Again, they are wardrobe necessities and are versatile. Apart from being a wardrobe necessity, white dresses are ideal choices to make for your closet, just in case you get tired of dark-colored outfits. There are a range of vintage white outfits you can choose from based on the length, fabric, necklines, or sleeves.
Although there are lots of chic white dress styles, here are some basic white dress styles. These white dresses for women effectively glam you up every time they are worn.
1. Lace Dresses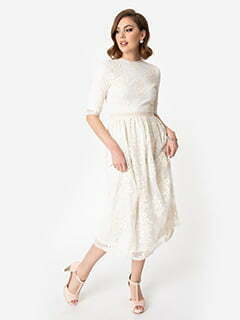 White-colored lace dresses are a perfect way to get an eye-catching look. They are simple but beautiful. As for the sleeves, short sleeves or 3/4 sleeves are just right for them. They also work with any neckline style of your choice. Alright then, get a stunning nude sandal heel as you get ready to rock your white lace dress.
3. Little White Dresses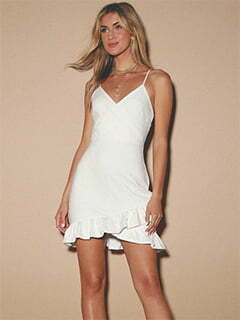 A little white dress is undoubtedly an important wardrobe staple. Whether you are preparing for a formal occasion or for a regular look that could be worn up and down, this particular vintage style is just what you need for a timeless appearance. Gracefully, the beauty of your little white dress will conform to whatever sleeve or neckline you prefer.
4. Shirt Dresses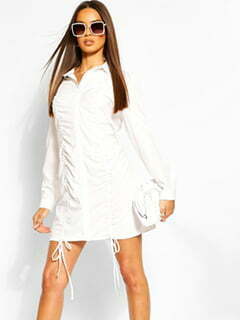 The vintage shirt dress style has been a really beautiful trend. But a white shirt dress with buttons is one to die for. They are so breezy, keeping you as comfortable as you can be. These plus size white dresses will always give you a unique and angelic look. Round up the look with a sandal heel, statement earrings, and sunglasses.
7. Pleat Dresses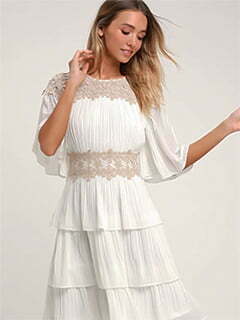 Step out all bright with a white pleated dress. They can be casually worn up and down as they leave you comfortable all day long. Deep V neckline or spaghetti straps is a choice you have to make to achieve the glamour that comes with the style. A pair of sneakers or block heels (depending on the setting) will, however, accessorize perfectly.
8. Flared Mini Dresses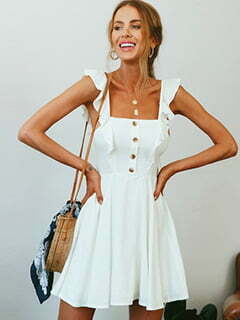 Just in case you are interested in looking at all sexy, this is for you. A flared mini dress held firm at the waist with a mini full flared skirt is an amazing style. They are suitable for cocktail parties and special events. Sleeveless with V-necklines will also be an appropriate choice.
9. Floor Length Dresses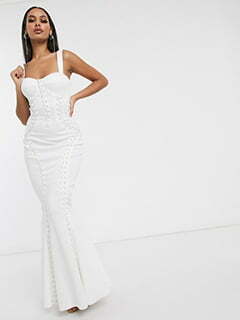 A floor-length white dress is suitable for everyone. No matter your age, height, or figure, you will look all glammed up in this style. You can either go for a pencil floor-length dress or fitted bodice and gathered maxi skirt. Rock the wardrobe staple with accessories of your choice.
10. Smock Dresses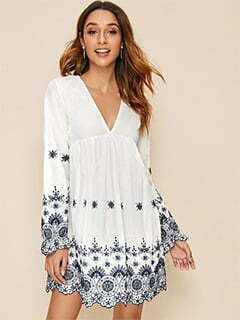 The retro smocking style has always been accompanied with uniqueness and elegance. The embroidery technique sure has a way of distinguishing you from the crowd. Your choice of a white dress will be made perfect with this smocking style. The combination of puff sleeves will also play a glamorous role in the outfit. Finish the look with a pair of strappy sandals.
Black dresses whether simple or elegant should always be a part of your wardrobe. For a better vintage look, you can go ahead to embroider your black dress with glitters, lace, sequins, and many more.