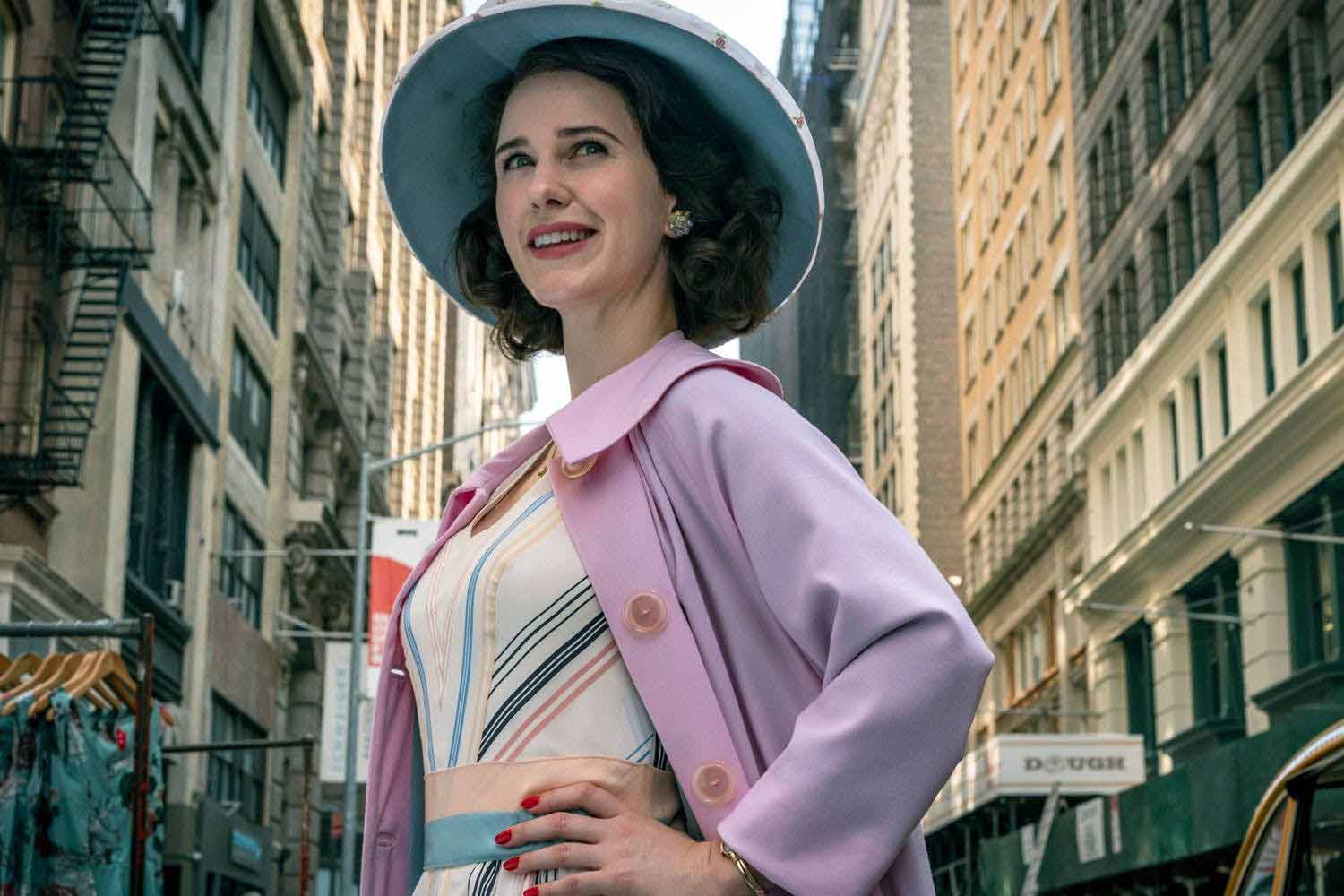 The show 'The Marvelous Mrs.Maisel' produced by Amy Sherman Palladino, has been a classic show ever since it came out. The main character Mrs.Maisel aka Midge is known for her fashionable outfits throughout the show. Keep on reading to know more about these gorgeous 1950s outfits.
1. The Monochromatic Look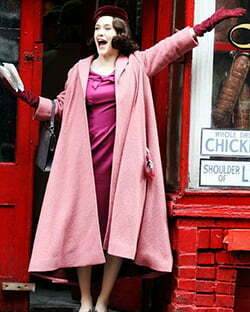 Midge, the main character of the show, was seen sporting a monochromatic outfit in the opening scene of the show. She rocks a magenta-colored dress with a matching hat and a long, gorgeous pink coat, perfect for women back in the 1950s, out for a trip downtown.
2. The Structured Hat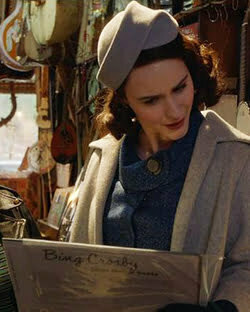 The accessories are what complete the entire look, and this well-structured, gray hat that looks like it has been twisted and folded from the front, doesn't fail in adding instant class to Midge's look.
3. Over All Navy Blue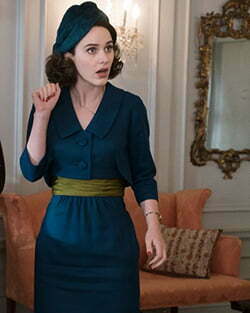 The women back in the 1950s were obsessed with tea parties and club meetings. The outfit that Midge wore, which was an all navy blue dress and a green belt around the waist was perfect for a tea party.
4. The Classic Green Coat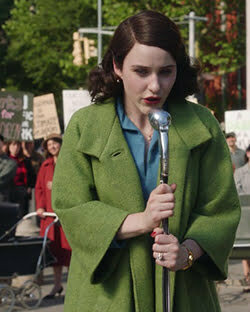 Midge wore a long, light green coat paired with her light blue top and an even lighter skirt helping her appear lively and fresh. Adding the right amount of accessories just made it the right outfit for a nice speech and public appearance.
5. 1950s Vintage Look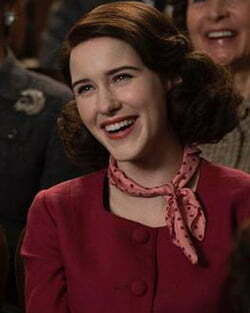 As this was a show based in the time of the late 1950s, the most loved trend in that time was the silk scarf tied around the neck. Midge wore the trendy scarf around her neck while she said with her friend to enjoy a performance.
6. The Office Look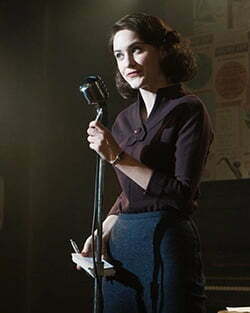 Midge sported a classy pencil skirt in one of her performances, showing off her professional side. She proved that pencil skirts are the perfect option for when you want to look professional and classy but still feminine.
7. The Stripped Bow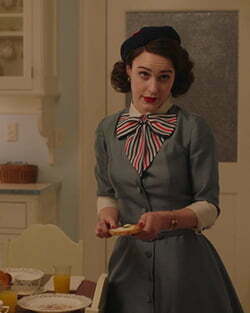 Midge even showed up to her first day of work in a silky-soft, gray knee-length dress. But what made her outfit stand out more was the white bow with red and blue strips on it. It gave her presence a fresh yet professional vibe to it, with a touch of uniqueness.
8. Polka Dots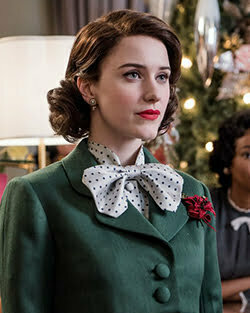 Midge rocked a polka dot bow with her perfectly tailored green dress in a party that she attended, turning heads with her classy and chic appearance.
9. The Blood Red Look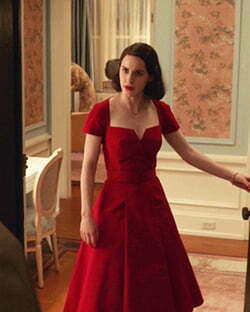 Midge instantly transformed her appearance by wearing a chic, red lantern sleeves dress for dinner proving that you don't have to show too much skin to look sexy.
10. Plaid Fever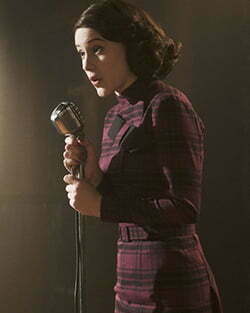 Plaid is a symbol of professionalism but with a touch of care-freeness to it. A dress made completely out of the plaid pattern graced the body of Midge when she was out there making everyone laugh with her amazing performance.
11. Plain Green Dress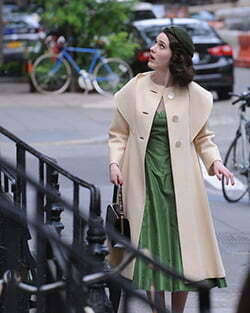 The plain green dress that Midge wore with a matching structured hat and a cream-colored full-length coat, gave a soft and fresh touch as well a boost of confidence with the v-neckline.
12. Purple Velvet Coat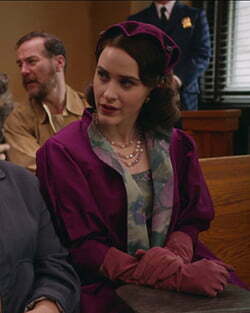 The long purple coat and the puffy matching hat seemed to be the only defense she has when she went to court. The outfit helped her appear confident so that she can talk her way out of being severely punished.
13. Audrey Hepburn Inspired Look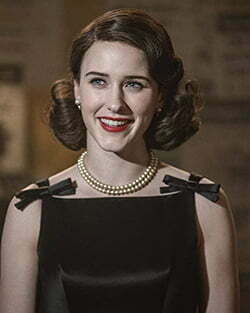 The black dress that Midge wore was inspired by the very famous Audrey Hepburn. She wore a black dress with tiny bows on the shoulder, paired with a thick pearl necklace that added timeless class and elegance to her look.
14. America Flag Inspired Outfit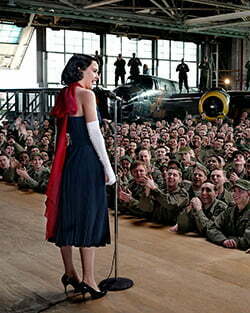 When Midge was performing at the army base, she wore a gorgeous blue gown with a red bow that acted as an accessory bow tied to the back of her neck, matched with a pair of white gloves, representing the American flag.
15. Traditional Housewife Look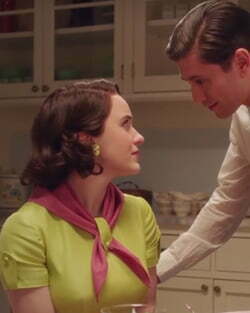 Midge wore the conservative necktie and apron while she cooked her famous brisket and dealt with the rest of the family, just like the old housewives did.
16. The Pink Swim Suit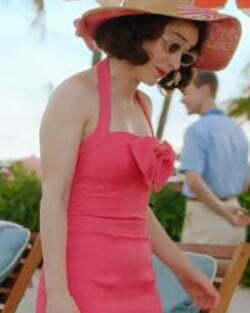 Midge was not only good at dressing up for professional events, but she also looked amazing even when she was out relaxing in the sun on the beach.
17. Flower Print Sundress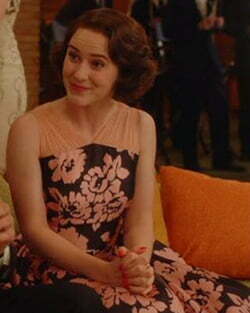 A flower print dress is perfect for when you want to make a simple appearance at the party, which is exactly what Midge wore when she was at a house party in the show.
18. Embellished Ball Gown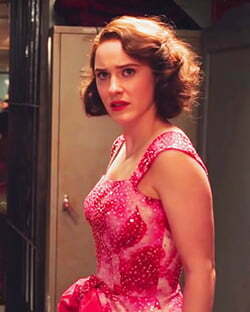 The pink, beautifully embellished ball gown helped Midge make a unique and confident appearance when she was about to perform at the Apollo in Harlem.
This is how Mrs. Maisel made tons and tons of fashion statements throughout the show. Some of them even became her signature styles. We hope that this helped you understand Mrs. Maisel's personality and fashion preference better.