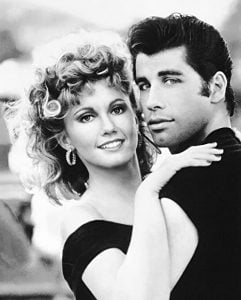 Although the movie Grease was released in 1978, it was an obvious representation of the 1950s greaser fashion that rocked the screens all through the decade.
The 1978 movie starring John Travolta and Olivia Newton has left a mark in history for its interesting appeal to both the young and old. The sweet romance between Danny and Sandy, the musical, the fashion choices, everything appeals to different people and that's what makes the movie remarkable.
The Grease story, a romance story that a bad boy meets a good girl. Danny Zuko, played by the very talented and handsome John Travolta, has a summer romance with Sandy, played by good girl Olivia Newton.
The pair has an amazing time during the summer and when school resumes, they find themselves in the same school, so they are forced to decide whether to continue to do what they started over the summer or go their separate ways when faced with their true selves. It's a whirlwind romance as the bad boy Danny who's a T bird; a leather jacket, tight jeans, greaser hairstyle, cigar-smoking, greaser male, decides to win the heart of the good girl Stacy who's a flower wearing, yellow cardigan, skirt-wearing good girl.
The transition which takes place between them is incredible, as the good girl Sandy is seen dressing all leather, holding a cigarette, wearing a greaser hairstyle and saying something like "tell me about it, stud", while Danny in a bid to with her heart becomes a straight-headed varsity jock. The couple finds a meeting point between their lives as they begin their long-expected romance story.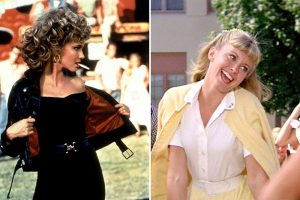 The movie has influenced the runways in many ways since then. French designer John Paul Gaultier created a fashion show called 'So you think you can dance' in 2014 spring. The entire collection was inspired by Greaser fashion from the movie Grease, particularly the style of Danny Zuko.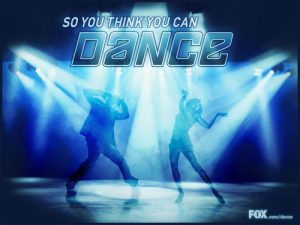 The 'good Sandy' style was also represented as Oscar de la Renta eveningwear and is seen as a timeless style that has an appeal for ladies of a certain taste.
The other Grease styles that have been represented are the Jokes and the Pink ladies.
Fernanda Ly, in Louis Vuitton Spring 2016, was inspired by that style to create her opening show. Varsity jackets inspired by the Jokes have appeared in different places, at Proenza Schouler and in Spring 2016 where Marc Jacobs wore a varsity jacket with red latex pants.
The Pink Ladies
The Pink Ladies were an active side attraction in the Grease movie. They were every girl's dream, the opposite of the dark Gothic style trend of today. The all-pink style also had to do with an attitude adjustment. These pink ladies were tough, sarcastic, and had a sexual undertone, as well as a rebellious appeal.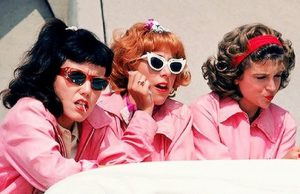 Pink ladies were characteristic in their pink jackets typically with their collars up, poodle skirts, and cigarettes and bubblegum. Although they act the same, they have different personalities and come together as a clique. They had an influence on teen behavior at the time, influencing teenage rebellion in the US and Britain, depicting a time when teenagers began having their own will.
Pink Ladies wore their hair differently from the Greaser Girls. Their style was more childish and comfortable. They were hardly seen in the heavy high hairdos as Greaser girls, but they made do with simple pulled-back styles with hairpins, fringes, and short wavy hairdos.
T Birds
They are always spotted wearing either a black or sometimes a white T-shirt, leather jackets, tight jeans, and always sporting the Greaser's hairs, and for an added effect,
they always had a comb in hand. Their shoes were usually work-boots or Chuck Taylor All-Stars. Their black jackets usually had the T Birds inscription behind them; they smoked cigarettes and were the known bad boys of their school.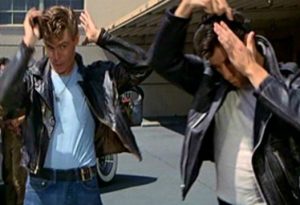 Halloween Costume Ideas
Pulling off a Greaser Halloween costume for adults and kids should be easy
The options are;
Bad girl Sandy
The iconic look Sandy pulled off at the end has been mimicked by kids and adults for a very long time. Her cat lady-like attire with leather pants, an off-the-shoulder top, her red stiletto heels, messy hair, hoop earrings, and simple makeup with dark eyes and bold lips are all you would need to complete the look.
T Birds/ Danny Zuko
This look is constantly catchy. Their denim pants or black pants on black or white t-shirts, boots, and leather jacket look is also one easy to pull off as long as you have the attitude to compliment the style.
Pink Ladies
This was an unforgettable style. They were a gang on their own and were known for their iconic pink jackets with their names written behind; simple hairdos, poodle skirts, and simple Mary Jane's or stilettos.