1930s fashion was artificial. It was either you had makeup on or you didn't. And with the events of the 1930s, it gives a sense of optimism knowing that everyone could still find some glamour in the light of the great depression.
Paying close attention to the stars that made women's fashion in the 30s what it was, like Greta Garbo, Carole Lombard, Jean Harlow, Constance Barnett, Myrna Loy, and a host of others, we observe a number of recurring makeup and hair trends that made the decade what it was.
1930s Makeup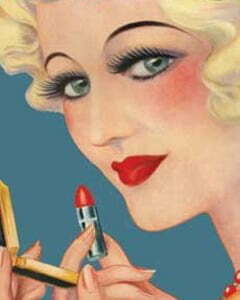 The most popular skincare brand of the 30s was Ponds Cream. It was essential for all ladies and it had the routine products for cleansing, toning, and moisturizing.
The Pancake foundation was used and popularized by Max Factor. It gave a lovely matte finish and was elegant, especially for onscreen actors. It also became so common that ladies everywhere adopted it. To achieve the look, white powder or ivory-tinted powder, or rice powder was applied over vanishing cream. Rouge cream was perfect for creating the oval-shaped contouring pattern used at the time.
Eyebrows had an extremely artificial look. Natural eyebrows were either plucked or shaved into a very thin line, or sometimes they were plucked out entirely. With the use of an eye pencil, a very thin line was drawn over the original location of the eyebrows, and the end was kept narrow at the point where the natural brow ends. Stars like Jean Harlow were seen often looking glamorous with this makeup trend.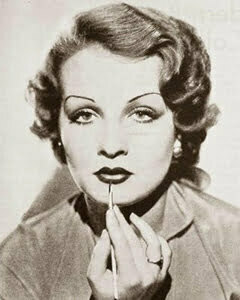 Bold color eye shadows were common within the decade, but conventionally, any shadow of your choice was acceptable, and for a finishing touch petroleum jelly is dabbed over the crease to give a perfect glow. Marlene Dietrich confirmed this to be her makeup trick.
Cake mascara was common, applied with a brush from a tray or a pot, while eyeliner was a must-have, applied to the upper and lower lids. The popular lipstick colors of the 30s were; noir red, carmine, merlot, cherry red, and tango red. The makeup trend of the 30s was elegant, classy, and cheap with a dash of fun.
1930s Hair
30s hair was characterized by making the most with little. The most popular hairstyles of the decade were:
-The Marcel wave which was made by creating waves in sections of the hair using a marcel hot iron to create tight waves all through the hair. Making hair look a lot shorter than it was.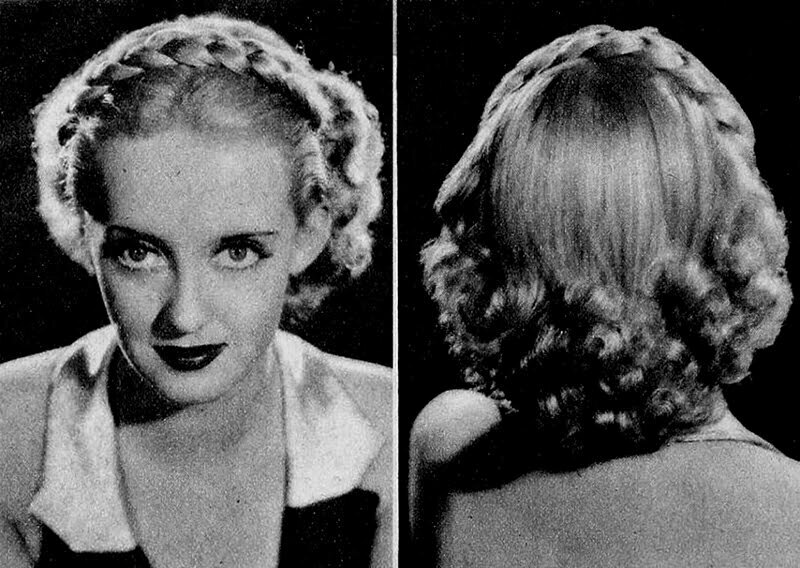 -The Pageboy; this was a personal favorite of Greta Garbo. It was made by creating a part on the hair and was either curled or straight around shoulder length. Hair close to the face was trimmed to give a perfect framing.
-Long Bob was similar to the Pageboy but had curls running down from eye length down to the shoulders.
-Long curls were a longer version of the long bob.