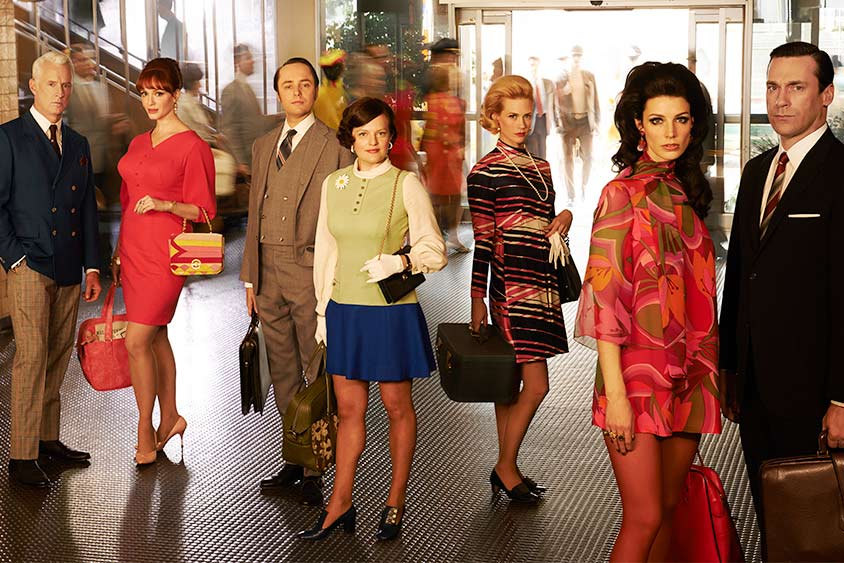 The 1970s has been known for its exquisite fashion and brilliance of the fashion industry thriving during that time. This decade was the high time for extreme and average fashion styles going side by side. The Boho or Bohemian fashion movement and Hippie fashion movement gave this era new definitions of fashion. These movements brought about a change from conventional lifestyle fashion to the wild and rebellious fashion of long hair, psychedelic prints, headbands, bright contrasting colors, peace pendants, and a lot more. The bold, blunt, and straightforward fashion statements given by the fashion influencers of that time continue to inspire people around the world even today.
The plus-size fashion adopted during the decade of the 1970s was no less magnificent with its prints, designs, and glamorous detailing. Ranging from plus size evening gowns and formal dresses to beautiful plus size summer dresses, this era contributed massively to plus size fashion where everybody could have a strong fashion sense with amazing outfits created specifically for them. In case you are also looking for stylish plus size dresses, we have created a list of the 1970s plus size dresses for you to choose your look from. Scroll down to find some of the plus size dresses ideas for your next party or a casual day out with friends or family:
1. Polka Dot Knee-length Dress
Polka dots have always been in fashion and we don't see any sign of them going anywhere any time soon. There is no doubt about the fact that polka dots look quite flattering and give you a classic look of the 1970s. Whether it is a leisurely stroll across your favorite garden or a night out with your friends, you can easily carry this black dress with white polka dots to look fabulous. With this dress, you can wear black pointed heels for more style.
2. Merlot Velvet Corduroy Jumpsuit
Merlot is a color that can look fabulous in almost any situation. Wearing this color can boost your confidence and give you the trendiest of looks without you having to put in much effort. A merlot velvet corduroy jumpsuit can be your ideal plus size formal dress for the parties you have been wanting to attend for so long. Pair this stunning outfit with golden pumps to give your amazing outfit some extra shine. Adding a belt to the waist and wearing hoop earrings with this outfit can add perfection to your style for the evening.
3. Floral Plus Size Summer Dress
An amazingly stylish look from the 1970s is the floral summer dress. Floral prints have always looked elegant, cute, and beautiful on whoever has worn them. You can see floral prints everywhere, ranging from floral bags, boots, and scarves to elaborate evening gowns, and summer dresses. A floral plus size summer dress can be your dream come true for your 1970s hippie look.
4. Go-Go Girl Fashion
Go-go boots were the ultimate fashion in footwear during the 1970s and women of all ages would wear them with pride and confidence. The go-go girl fashion can also transform your look from plain and dull to extremely magnificent in an instant. A knee-length dress with bell sleeves, in various hues of blue-colored waves all over the dress, can make you look stunning. Wearing a matching headband will not only add to your stylish looks but also keep those annoying wisps of hair from going into your eyes. Pair this outfit with white go-go boots to complete your plus size summer dress look.
5. 1970s White Dress
For a classic and chic look, going with this 1970s plus size white dress can be your ideal choice. The polyester jacquard fabric of this dress makes it lightweight and easy to carry so that you can wear this without having any second thoughts and without compromising on your comfort. The short, puffed sleeves and full gathered skirt of this outfit can make you an instant fashion inspiration for many around you. You can also add a different colored belt to the waist for added perfection. Pairing this outfit with pink peeking toe heels for some color can also be a great option.
6. Black and White Combo
There is no doubt about the fact that black and white fashion has been loved ever since the beginning of time. The combination of these two colors can be as flattering as anything and help you look stylish in an instant. For the 1970s plus size black and white look, go with this outfit of altering black and white blocks with white pocket flaps and black buttons on them on each block. Wear black closed-toe heels with this outfit and tie your hair at the back in a half up half down style for a sensational final look.
7. Disco Dress
The disco nights of the 1970s have been known for their glamour and high-end fashion. If you are also planning on attending a similar disco night, go with a shiny disco dress. This disco dress comes with a flattering v-neckline and a mock-wrap design that flatters your body shape extremely well. The bell sleeves of this outfit give you a sensational overall look. You can pair this dress with golden platform heels to stand out of the crowd. Add a knotted belt to the waist and let your afro hair do the rest of the magic for you.