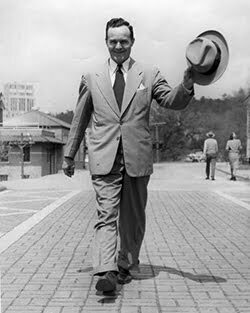 With the disruptive World War II underway in Europe at the start of the decade, and the US joining in 1941, the40s sense of fashion was largely conservative in the early years and then bloomed in the second half of the decade. Garment restrictions were in place, harsher in Europe which had less access to cotton and other fabrics. A huge number of men were involved in the war, which showed in their off-duty sense of fashion. However, the US fashion scene still thrived to some extent, with casual wear gaining popularity among both men and women. Post-war fashion was less restrictive; surplus fabric from the war and mass production lines were adapted to making civilian clothing. What did men wear in this decade?
1940s Men's suit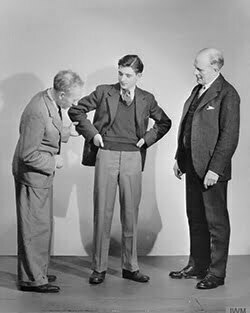 Garment restrictions in the UK changed the way suits were designed. Men's suits were to be single-breasted with narrow lapels and a restricted number of pockets. Trousers were also cut with less fabric which eliminated pleats and cuffs. Some men got around this by buying longer trousers and then making cuffs from the extra length. However, the leaner cut gave a more slimmed silhouette, which was a change from the flowy draped designs of the 30s by fashion designers.
The draping design was still popular in the 1940s men's fashion US especially among men who did not get into the war. This was epitomized by the ridiculously voluminous zoot suit which had been carried over from the 30s. It featured an outsized coat that reached almost to the knees with very wide-legged trousers that tapered at the ankle to prevent tripping. It went with colorful shirts, wide neckties, loud patent leather shoes, and topped with a homburg hat. This suit was at one time a source of conflict between US soldiers and civilians because the soldiers felt that the civilians wearing zoot suits were unpatriotic in refusing to observe austerity measures.
In the US, older men not in the war, and businessmen wore the conservative suit that was largely unchanged from the 30s. Double-breasted suits of wool, tweed, or worsted wool were still the main day clothing for older gentlemen. They came in conservative black, grey, navy, brown, and blue hues. However, suits made from synthetic rayon and wool blends became common after the war restrictions were put in place. The single-breasted suit had wide padded shoulders with a slight cinch at the waist. The jacket had 2-3 buttons and wide notched lapels.
The suit came with flat fronted trousers without pleats, or occasionally with single pleats. Waists were high with 2-3 inches waistbands. The trouser leg was wide and straight down to the ankles with a 2-inch cuff or no cuff.
1940s Men's Shirts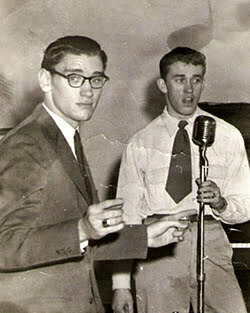 Cotton shirts with attached collars were worn with suits in formal wear, or with slacks for a less formal look. The collars were large and pointed, popularly known as spearpoint collars. White was dominant but colored shirts were becoming more popular with different hues; blue, yellow, grey, tan, and green.
Casual wear for Men
The military uniform design has a big influence on 1940s men's fashion as men adapted some of the more popular features of their uniforms to civilian clothing. Casual wear including bomber jackets, trench coats, chinos, and aviator glasses had military origins. There were plenty of men in the industries who couldn't wear suits. Shirts and trousers made of heavy cotton or gabardine fabric were the preferred workwear. the shirts came with two patch pockets for utility. These work outfits were in jungle green, tan, brown, or navy blue. Overalls made of heavy cotton, gabardine, or denim were worn by men who in more involving jobs like mechanics. They came with several patch pockets and could be belted to fit.
Pullovers, V-neck vests, and knit shirts became popular after the war and were worn by the younger men without a jacket or coat on. Hawaiian 'aloha' shirts that in loud colors, flowers, and bird patterns were also popular especially with men who had been in the tropics.
1940s Men's Fashion Shoes and accessories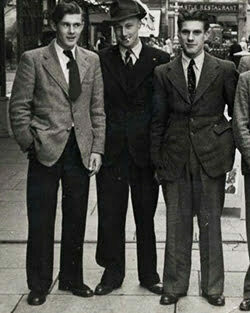 Dark brown or black for Oxford lace-ups remained the preferred footwear for formal occasions, while two-toned brogues were worn with casual wear. Loafers, sandals, and sports sneakers also grew in popularity with the younger crowd.
The wool felt fedora or trilby was still the most popular hat. it came in black, dark brown, grey, tan, white or cream. Homburgs were also popular for wearing with formal suits. The oval topped pork pie hat emerged in this decade as well. A hat at a raked angle with aviator sunglasses became the signature look of the dapper gentleman.