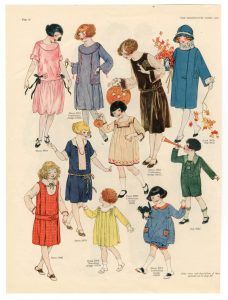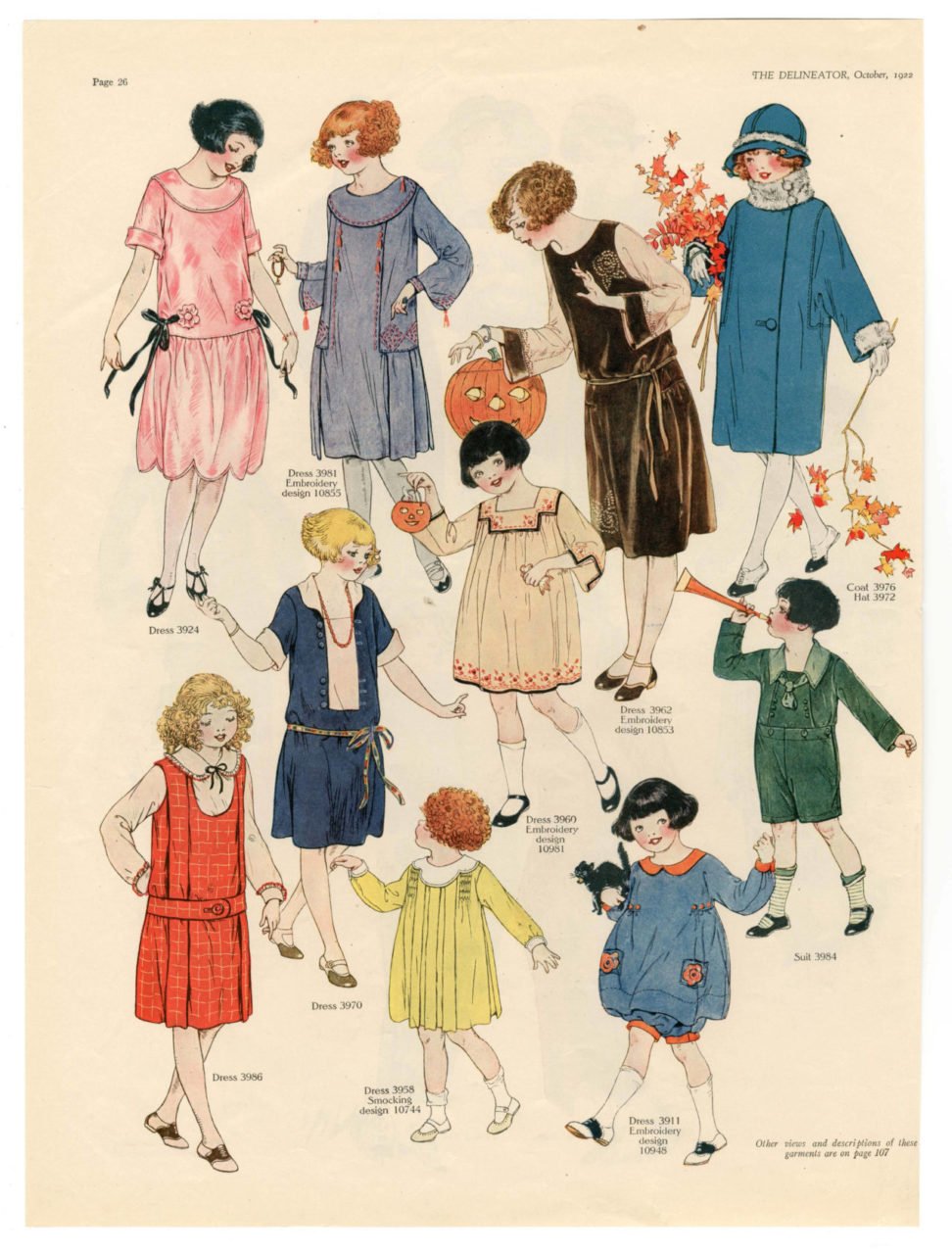 Children's fashion in the 1920s has changed as well as the fashion statement of the adults. Years before the 1920s, both boys and girls are wearing dresses or clothes with several layers and laces. By the 1920s, clothes designs for children allowed children to move comfortably and freely, and most designs were emphasized for the more active lifestyle by both young girls and young boys. Since the Roaring 20s was an era that emphasized liberation, the clothing trends for men, women and children just reflected the feature of this era.
On the whole, materials used in making children's clothes were lighter and the laces were dramatically reduced. Children's wear in the 1920s benefited from new technology and research into children's development. Freedom of movement and comfort were prioritized as the layers of previous decades came off and, much like womenswear and menswear, simplicity became key. Kids liked knitted jerseys and buttoned down cardigans back then.
1920s Fabrics of Children's Clothing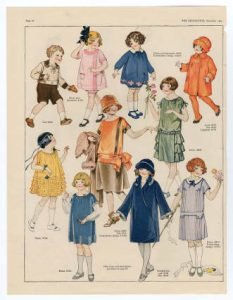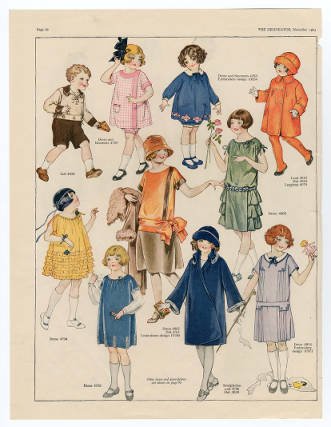 Changes in children's clothing styles were part of the shifting cultural landscape of the 1920s, as children's clothing styles reaped the most benefit from the new fashions. In the 1920s, clothing styles for children became less ornate and more practical because of their unique needs. People used durable and practical fabrics to make the charming styles, and those fabrics could be easily saved for a younger sibling. For both little girls and boys, the clothing was suitable for play, work and school.
Clothing designers maximized comfort through simpler styles. People had worn multiple layers for decades, while a 1920s summer outfit might consist of a single layer over underwear. Even in winter, clothing was kept streamlined with minimal layers. Common outfits included wool dresses worn over stockings and a long knit underwear suit with a knitted sweater and jacket on top.
Durable and Low-Maintenance Fabrics
In the 1920s, children commonly wore clothes made of cotton and wool, with knit jerseys, cardigans, serge skirts, and shorts. Cotton and wool were sturdy fabrics that could stand up to the weather and hold up well to rough and tumble play. Clothes that didn't require careful washing, starching, and pressing were also a boon for busy mothers. Wealthy children's clothes were made by velvet, lace, muslin, and silk, usually set aside for special occasions.
1920s Babies Clothing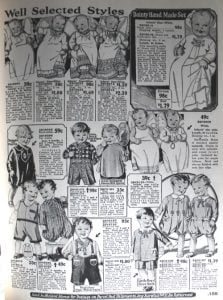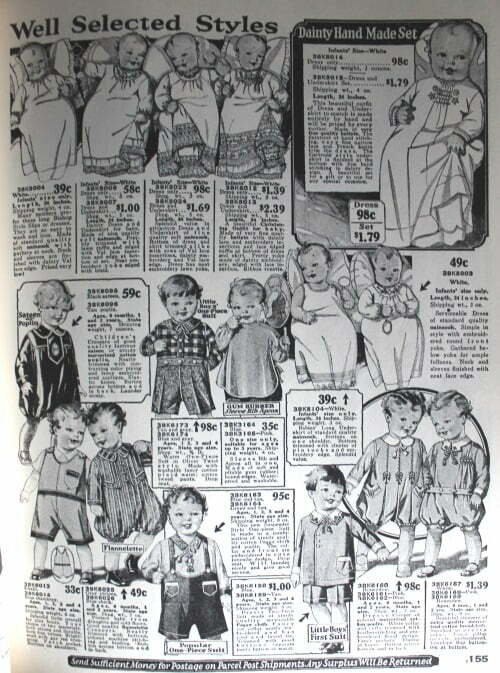 In the 1920s, more comfortable outfits such as rompers and short dresses replaced the frilly laced dresses and other formal baby attire. For babies who still do not know how to walk without support, they were usually dressed with rompers with side snaps, since rompers allow babies to craw and move freely without any restrictions.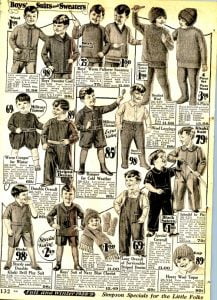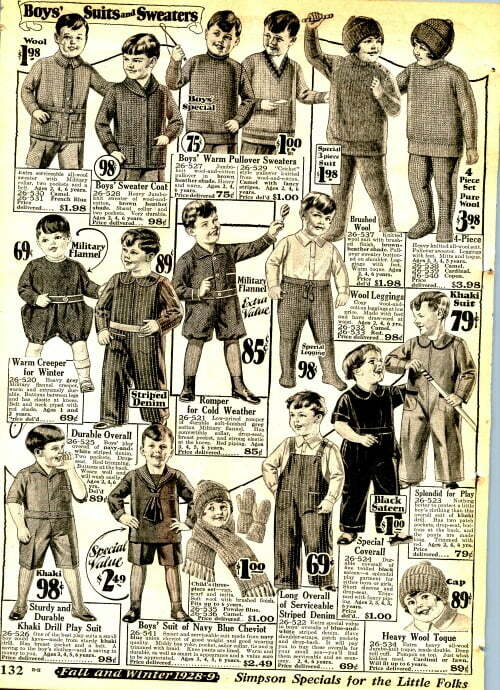 During christening considered to the formal occasion, babies were usually dressed with Irish lace or dresses with fancy embroidery. Babies of both genders were still dressed in white or ivory gowns, typically made of cotton. The gown style made it convenient to change diapers. Hand-knit bonnets and sweaters kept children warm, as did knit pants worn under the gown in cold weather. Both poor and wealthy infants were dressed in these gowns, but the quality and decoration would differ. Lace, tucks and embroidery decorated the gowns of wealthier babies. Light pastel colors were sometimes used for ornamentation. And for informal occasions, such as for everyday living, babies were usually worn with cotton, wool, or silk garments greatly depending on the weather.
Toddlers' Clothing in the 1920s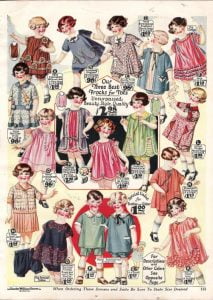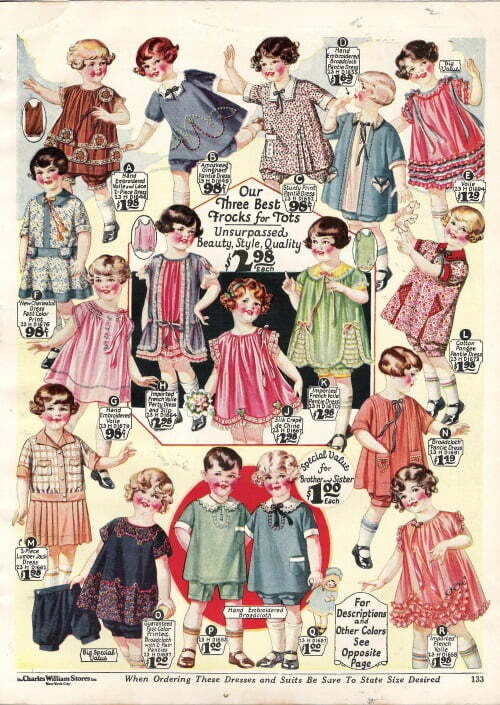 Usually, toddler girls wore tunic dresses with matching bloomers, embroidery, rosettes or ribbons. For everyday use, toddler girls wore rompers with bloomers. And toddler boys were worn with rompers or short trousers all the day. The type of material used in clothes for children such as cotton, silk, wool and so on, greatly depended on the weather. Parents could recognize the practicality of buttoned-on shirts and keep a little boy looking neat.
1920s Girls' Clothing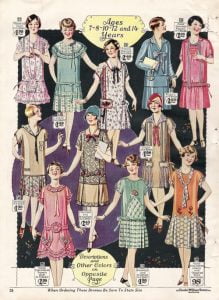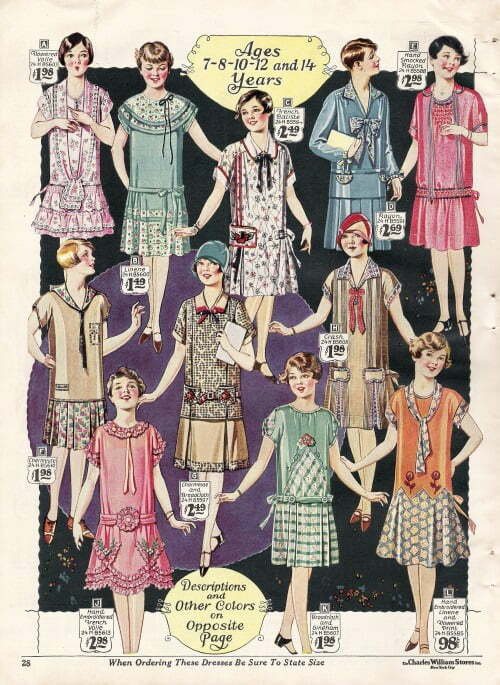 Little girls dresses in the 1920s ranged from sailor style dresses or skirt suits with a skirt and blouse, to colorful gingham print dresses. They typically had a high waistline, with the skirt beginning just below the armpits, or a natural waistline. All styles had full skirts, typically gathered, but sometimes pleated, with elbow-length or long sleeves. Hemlines came to the knees, and dresses could be worn with knee socks in cold weather or ankle socks in warm weather. Dresses for every day were relatively simple. Ruffles, large bows, and other embellishments adorned party dresses and formal wear.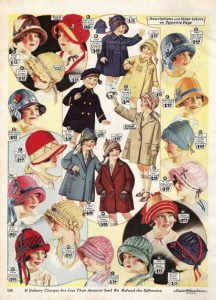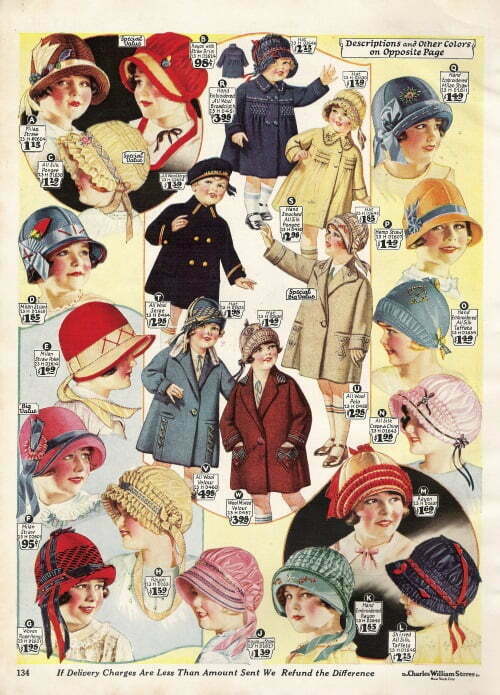 Older girls' dresses were more stylish than those worn by little girls, transitioning gradually into more mature styles suitable for a young woman. Girls' dresses became short, loose, and made of cotton. Sailor collars were still sometimes worn, but were often replaced by lace and other trims on the dress bodice. Such a dress had a slightly more fitted bodice, with a natural or dropped waistline, hitting at the hip. Skirts were gathered or pleated, but were not as full as the ones worn by little girls. Fabrics and colors were more varied. However, very bright and rich colors were not considered suitable for girls, so pastel shades were popular, especially for formal dresses.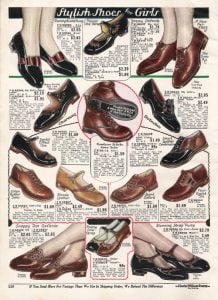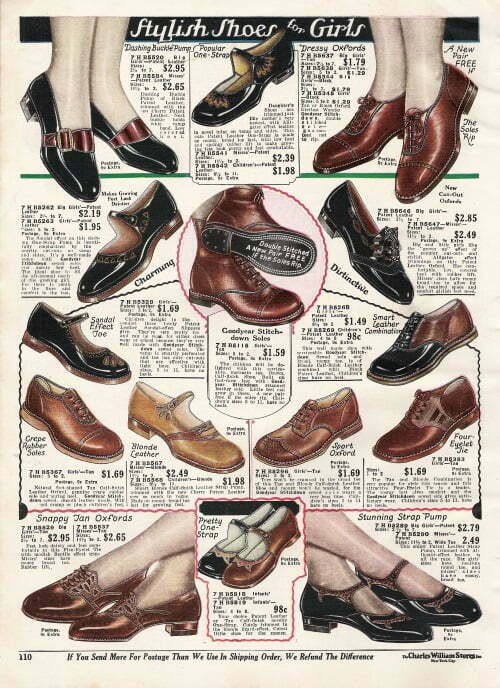 Older girls also usually worn items such as cotton frocks, cardigan sweaters, and canvas shoes or sandals. Summer shoes were usually made of canvas, making them lighter than the hard boots of the Victorian age. In winter, girls wore a heavy sailor suit or a serge skirt with a sweater, often with a matching beret. A knitted suit of long underwear went underneath and included attachments for holding up long stockings.
Boys' Clothing in the 1920s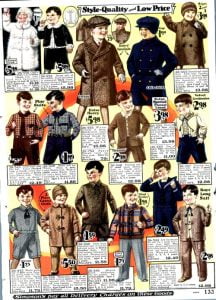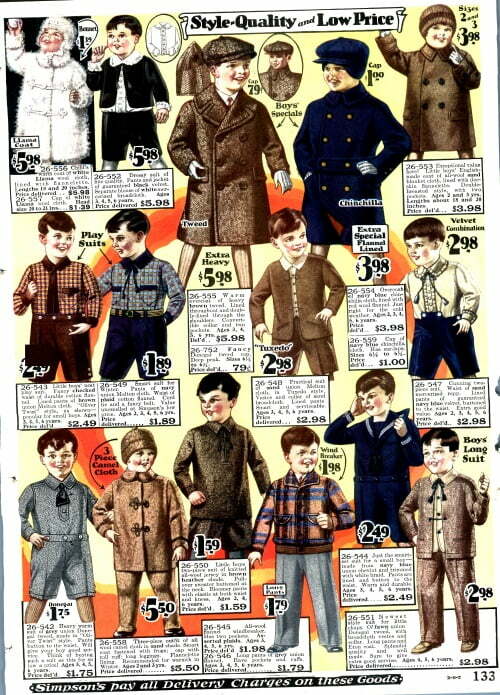 For little boys, romper style outfits in striped fabric were a popular choice. Sailor collars were especially popular, either on a navy suit or one in a tan or cream color. Little boys' clothing was often made in shades of blue or tan. Cotton sateen or fine wool in darker colors were used for formal attire for young boys.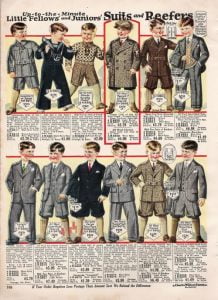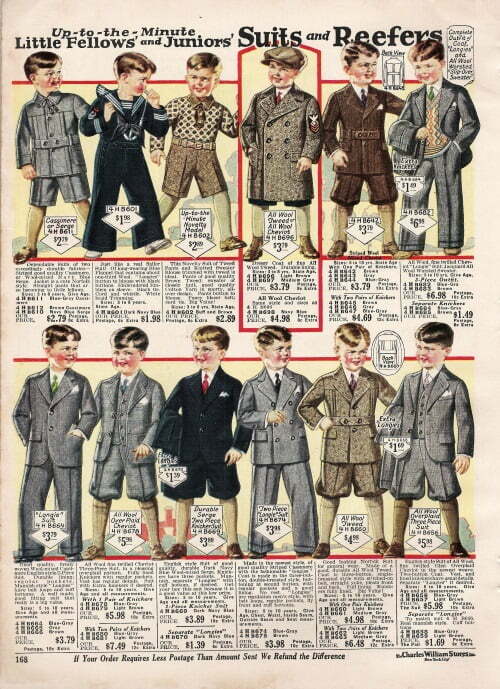 Older boys left their rompers and sailor suits behind in favor of a suit. Pinstripes were especially common in boy's suits. The suit consisted of a jacket, worn with either knickers or long pants. In summer, they wore ankle socks with canvas shoes or sandals, and in winter they wore heavy knee socks. Boys also wore lots of knitted pullovers and cardigans. For school, they still wore suit jackets and ties, but these were much less restrictive than before. Special occasions might warrant a sailor suit or something made of velvet, but these were less fussy than their counterparts of the Victorian era. For head accessories, hats were also popular among boys, specifically berets and brimmed caps, which both are cloth hats.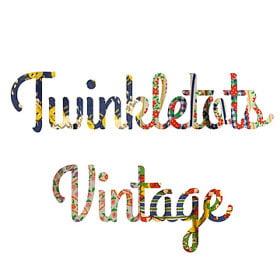 Twinkletots Vintage Specializes in vintage clothing, toys, and books for children.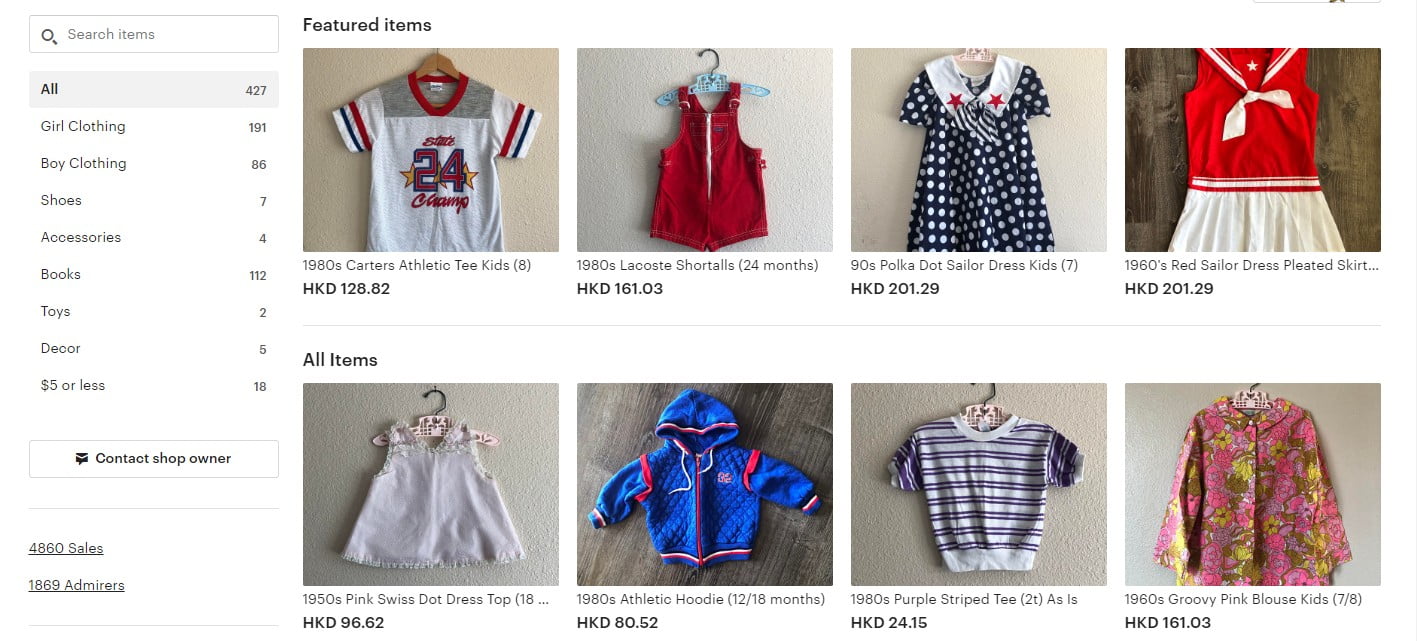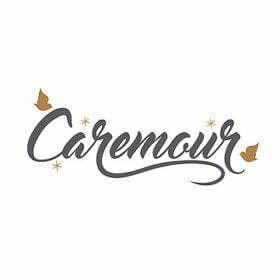 Caremour Christening is a store that makes top notch Christening wears with decades of industry experience and professional craftsmanship producing supreme quality Christening gowns, which is unique and unrivaled.