The 60s were a time for liberation and experimentation in many aspects of life including fashion. Although the 1960s children's fashion did not change as radically as adult fashion, children started wearing more casually and in brighter colors. The use of synthetic materials was fully established and designers seemed to love synthetics more for children's clothing as these garments were tougher, lighter, and required less maintenance. They were also cheap, meaning that families (still large by then) could clothe several children and have them look fashionable with an affordable budget. Girls for boys and girls had become very distinct but still borrowed heavily from designs for adult clothing.
Fashion for girls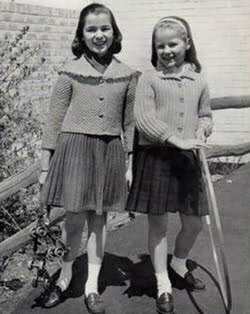 In the early 60s, girls wore full skirts with defined waists, a look carried over from the 60s. Younger girls wore white socks and Mary Janes, and occasionally donned gloves for occasions such as church service and weddings. But this changed starting mid-60s when bright colors and bold patterns in more casual outfits. The cinched waist was gradually replaced by dropped waists, A-line, and baby doll silhouettes. Older girls fashion borrowed a bit from adult women fashion with pedal pushers, tights, and go-go boots such as worn by hip young ladies.
Tapered trousers were in fashion for girls; dark-colored and earth tone plaids paired with tunics were worn in the fall. They could also be paired with oriental shirts patterned sweaters and tops with lots of embroideries. Girls also paired trousers with shirts having Peter Pan collars, over which a sweater or pullover was worn.
Slim skirts with tabs were also in fashion. The early 60s saw pink hues and checks on dresses and tops. The sailor looks from the previous decades persisted in one form or another, and it could be seen in some striped dresses in the 60s. Spring fashion saw pleated skirts worn with tops with collar detailing,
The mid-60s saw more casual designs; matching tops and leggings, pleated skirts worn with sweaters, and dresses featuring big bows, button detailing, and ruffles. Younger girls also had stirrup pants and knee-high sticking for casual wear.
Fashion for boys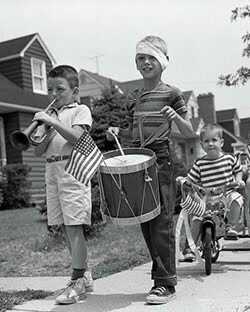 Boys fashion in this decade featured lots of denim and plaids. Corduroy or denim pants were worn with polo shirts and a sports jacket on top. Formal wear borrowed from adult designs with striped or plaid blazers worn over turtlenecks. Crested blazers were also worn with flannel shirts, pants, or slacks for formal occasions. Boys' clothes became brighter with reds, oranges, and yellows.
The sailor looks for boys carried over into the early 60s, with sailor suits, nautical stripes, and signal shirts being popular wear in the spring. Informal wear included slim trousers and plaids, pullover hooded tops with stripes, and checks. Button-down shirts, jeans, and plain slacks were also popular informal wear. Leather college jackets with big letters and mock turtle necks were also seen in the end years of the decade.
Clothes for toddlers
Fashion for very young children remained largely unchanged from the earlier decades with one-piece evening gowns for infants and button-down shirts attached to small shorts for toddlers.