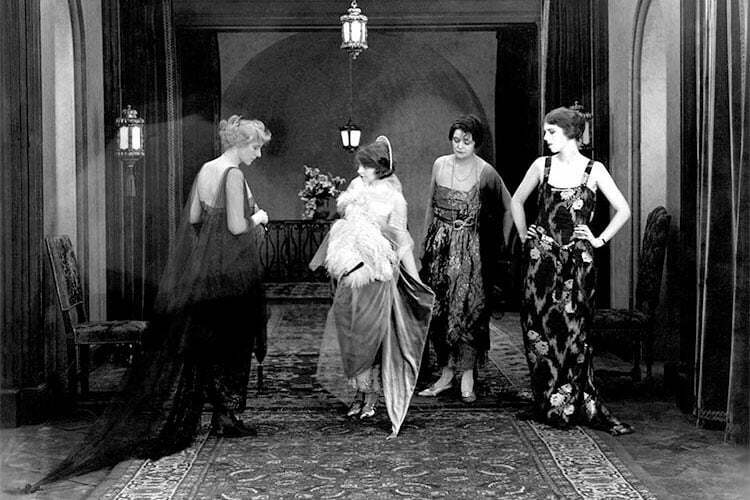 The 1920s is an iconic era of fashion. One of the most popular fashion items were evening gowns- that were movie like dresses that women usually wore in the evening.
These dresses fashioned gorgeous beads, sequins, and had exquisite materials that were a statement about their grandeur.
The Great Gatsby is a blockbuster movie of 2013, which depicts the gorgeous fashion and styles of the 1920s. How women wore lavish gowns with complimenting accessories was a capturing sight to see.
Let's find out a little more about these 1920's Gatsby themed evening gowns and how they made an impact on modern fashion as well.
How 1920's Evening Gown Designs Changed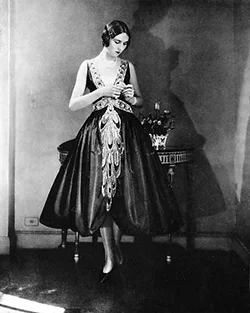 There were some prominent features of 1920's evening gowns that made an impact on the way people dressed during the era. They incorporated unique sewing patterns, designs, and cutwork that were not just innovative but were game-changer for the fashion industry.
Most of these dresses comprised of clusters of crystal and gemstone work that would further complement the materials used. In addition, gold and silver embroidery was popularly seen on these dresses.
The embroidery would be focused on the sleeves and the main torso. Evening gowns became even more popular as they were made of flowy and rich materials that would show off their premium quality. This is why any dress would be a piece of art of its own.
This was also an era when fashion designers were known for their unique styles. Similarly, popular designers of the time, like Jeanne Lanvin, introduce game-changing designs like the Robe De Style gowns that we're one of a kind.
Sequin Evening gowns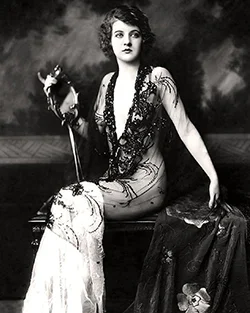 Sequin was a big feature of 1920s evening gowns. They made the dresses a lot heavier and further became an icon of wealth and majesty.
There were swirls, floral patterns, and intricate sequin embroidery paired with gold and silver threads that made the dresses artistic.
Other innovative designers like Callot Soeurs made use of metal sequins accenting the dresses. These sequins were more popularly known as 'gold sequin-line disks' that were used since Egyptian times on King Tut's attire.
If metal sequins and thread were too expensive to purchase, a shiny taffeta dress homemade with large silk flowers acted as luxury bits for lower-class party dresses.
Bare evening gowns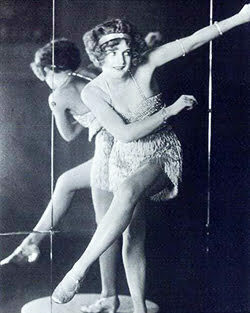 Bare evening gowns were a popular style during this era. This is one dress that would show off the skin as well as complement different skin tones. This was more popular as a 'dance' dress as it allowed a lot of leg and arm movement.
Bare evening gowns had a relatively shorter length, which is why women wore them for parties and prancing around. However, bare gowns also took a longer form when worn in the winters. Yet the material used was still light and flowy.
The neckline was relatively higher with around a square neck. While the backs were exquisite with deeper cuts that revealed the hind side, they did not require undergarments due to its specific material, cut, and style.
Many women also paired nude or colored stockings with their bare evening gowns that were relatively sheer but added on as a perfect accessory. The preferred colors for stocking were pastel peach and apricot colors.
These evening gowns were usually paired with mesh handbags, beaded accessories, and even bejeweled cigarette holder. Other people also liked to use hair ornaments as well as wraps around themselves for a chilly night.
Evolving Evening Gowns of the 1920s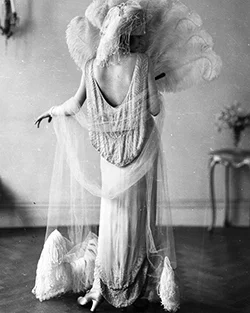 Evening gowns really evolved over the 1920's decade. Let's have a look at how th4e different styles look shape each year.
1920 – 1921
The decade started a much fuller skirt that was much more defined from the waist. It had a flouncing silhouette. The Robe De Style was much more popular during the time, which rapidly spread as many other designers started to copy it.
1922-1923
During 1922 and 1923, the defined waist trend continued. People loved a dress that would give a pronounced shape to the body. However, the noticeable trend was how evening gowns were much shorter.
The allowed a lot more movement and the chance to show off some skin. The necks were much higher and not the usual plunging neckline. A boat neck or a round neck was much more popular, with all kinds of hair accessories.
1924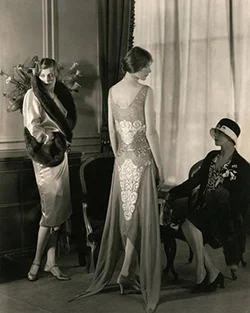 1924 was an iconic year when Chanel started breaking all fashion boundaries. It further shortened the dresses which bought the trend of dancing frocks. They allowed a lot more movement and women loved them for evening dances and parties.
These dancing frocks were made of light material but were just as fashionable. They showcased gold embroidery, bead, and stonework as well as crystal-encrusted torsos.
The preferred materials were chiffon and lace that had a 'flow' to it and were much lighter than satin and velvet. In addition, these dance frocks were in muted beige and pastel shades. They were loud colors yet they made the statement.
1925
This year is when lower backs were revolutionized in dresses. It showed off the skin as well as were paired with frilly voluminous skirts.
The fringe was very on-trend this year. Silk fringes were also a popular dance frock because of the way the fringes pranced around. This is also why such dresses became popular with performers.
1926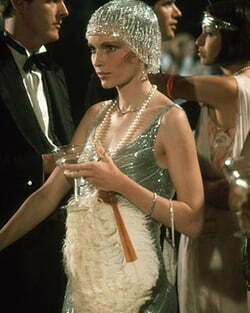 While there were no drastic changes in 1926, there were some changes that lead the way to the coming years. There was more and more use of beads as well. The material expanded to crepes, lace, satin as well as taffeta.
1927
Straight dresses with fuller skirts became much more popular. This time muted shades were out of style! Brighter colors like blue, lavender, yellow, green, terracotta, and lipstick red were seen on women.
The deep open backs were in style, where women showed off their skin a little more.
1928-1929
The last remaining years also bought iconic changes. The handkerchief hem became a trend, which was longer evening gowns that showed off some leg. The colors too shifted to darker burgundy, midnight blue and red.
Later in 1929, evening gowns started to have longer sleeves. Gowns even had a longer tail at the back, while the front ended mid-shin. Such dresses started getting featured in vogue in the 1920s making them an icon of the era.