The 80s were a time to go big and loud. The look was big-shouldered and dominant with bright colors and rich blended fabrics. This decade took a bit of this and that from the past. There were the full skirts of the Victorian era, the draping look of the 30s, and the metallic shine of the 70s. This decade also saw the rise in popularity of designers like Calvin Klein, Armani, and Tommy Hilfiger to challenge mainstay fashion houses like Givenchy and Chanel. Women had become entrenched in the workplace and there was more variety of formal women's fashion than before. Iconic fashion trendsetters like Princess Diana were closely watched by women for fashion cues.
1980s Plus Size Power dressing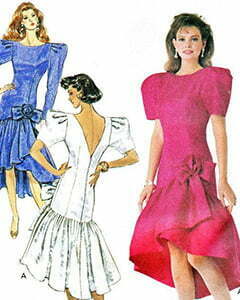 Formal dressing for professional women was largely modeled on the power dressing style that had been popularized by British Prime Minister Margaret Thatcher. This look was styled to dominate and announce the presence of the wearer. The power suit was often a skirt and matching suit jacket. A suit of a contrasting jacket and the full dress was also popular.
The power dress was meant to diminish the feminine form and instead highlight a woman's natural talents and abilities to level the playing field. The colors were neutral white, black, or grey. The dress was almost sheath-like, dropping in a relatively straight line to the knee or mid-calf.
Princess Diana's royal wedding in 1981 started off the 1980s fashion buzz with much to offer fashion- wise for formal and informal dressing. Thousands of high society guests in their designer wear offered a fashion bonanza that created a buzz lasting several months.
Big and bright Formal dress is the best choice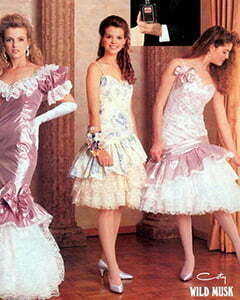 The decade started with a preference for bold bright colors and loose garments. The big-shouldered look was on everything including formal dresses. Black and white combinations were popular for working-class outfits, accessorized with chunky jewelry. Skirt lengths varied; younger women preferred the short look mini-dress style that continued to be trendy while older women went for calf-length skirts that flared at the hemline. Plus size formal dresses with Victorian-style full skirts that reached the ankle were popular for formal events like charity fundraisers.
The 80s dress underwent an evolution in design and embellishments but some common traits are very 80s. Ruffles we're used in both formal and informal dresses. Shiny hues were popular; metallic gold, silver, and sequins were generously used.
The tulle skirt restyled in a bigger design made a comeback in the early 80s. It was decorated with polka dots, and occasionally embroidered dots. The mid-80s saw the popularity of floor-length dresses with voluminous skirts. A satin dress with an off-the-shoulder bow was a popular look in the late 80s. The minimalist look with muted embellishments was also a fad in the late years of the 80s decade.
Formal dresses for teenagers and younger ladies were wearable to semi-formal events like church or prom. Big ruffles were a must-have on dresses. It was common for young ladies to color coordinate with their dates to these events. Layered or tiered prom dresses in metallic colors were popular through the 80s. The favorite colors were metallic silver and electric blue.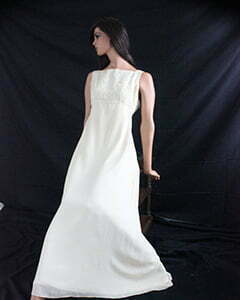 Oversize bow were also common embellishments of younger ladies' dresses. Pale pink and cream-colored satin dresses were classy and elegant. These tea-length dresses reached were worn with low-heeled pumps and chunky jewelry.
The minidress never quite went away and remained trendy although not as widely worn as in the 70s and 80s. Cute little black cocktail dresses reaching above the knee could be seen on bold hippy style college girls.
The showbiz scene continued to be a trendsetter for women's fashion. Celebrities such as Madonna, Whitney Houston, Janet Jackson, and Debbie Gibson were closely followed by women for fashion fads and trends. The Oscars were the most-watched semi-formal event of the year. The fashion world would discuss who wore what in fine details for days.
The preferable evening dress to formal and semi-formal events was the low neckline gown with a form-fitting bodice and full skirt. Sleeveless gowns were the most popular. Even with the power dressing, women still needed to feel feminine and sexy. Wearing an attractive dress to a popular event was guaranteed to offer attention.