The 20s were a recovery period after the devastating WWI, with wide social and cultural impacts. Women's fashion saw a drastic change as women discarded the heavily layered look of the previous decade. Simplicity and comfort were premium and women adopted the simple frock dress design. Women were taking on more roles in factories and at home, and needed something practical and simple to maintain. The androgynous look was defined by somewhat masculine looks, short hair, loose garments, and low waistlines.
The sporty look was more fashionable than the curvy silhouette desired in other decades. Women were desired short hair bobs, suntanned skin, and toned arms. The simple vertical lines of the 20s dresses were ideal for this 'boyish' look. Some women even wore shape-wear to achieve this look.
Women were also going to nightclubs and needed fashionable and seductive outfits. The famous flapper dress of the roaring 20s fashion with its bareback and raised hemlines was scandalous and yet adored by thousands of fun-loving women. The Paris fashion scene was still the reference point in matters fashion with designers like Coco Chanel putting out innovative outfits like the chemise dress.
Another big influence in the fashion of the 20s was the electric sewing machine innovated by Singer. This enabled women to sew fashionable outfits at home. Fashion catalogs provided the sewing patterns for Paris outfits and Hollywood fashion. Some said this was the 'democratization' of fashion. High fashion outfits could be copied in a few weeks or months as women could easily copy them at home.
Ready-to-wear  garments were also becoming more available as clothes makers were able to access synthetic materials like rayon, and better garment fabrication technology. Common people could access trendy outfits if they could afford them. Rayon was the most popular synthetic substitute for natural fibers. Rayon silk was the alternative for evening wear for women who would like high fashion at affordable prices.
What were the most notable takeaways of 20s fashion?
Straight loose-fitting dresses with drop waists that reached to slightly below the knee
Simple decorations withbeads, feathers, and sequins
Sporty wear liketennis dresses, blouse and ties, and sport golf knickers
Short bobbed hairstyles and cloche hats
Fur coats and fringe wraps.
Feathered or beaded headbands
Accessorizing withlong pearl necklaces and faux gemstones.
1920s House and day dresses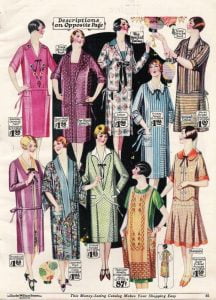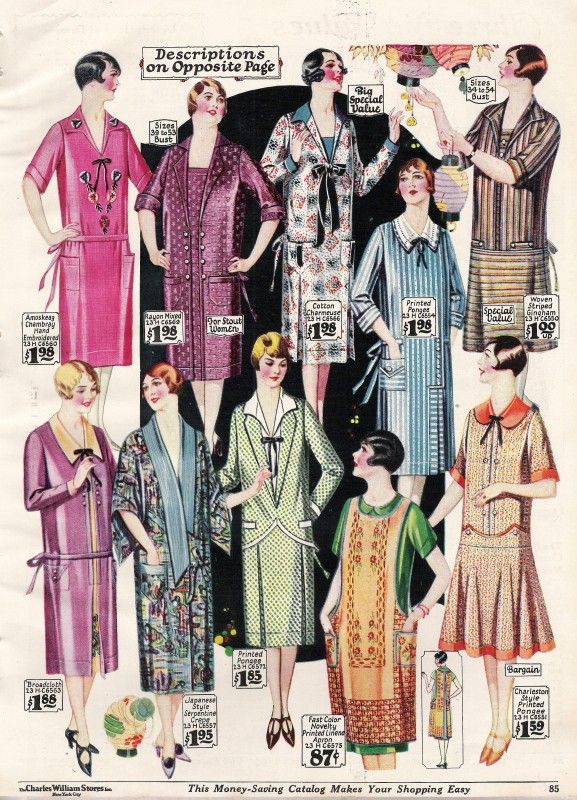 The 20s house look for a woman was a simple frock-like cotton dress worn with long cotton stockings and low oxfords. The house dress usually had a white-collar. The dress was usually homemade. These dresses were also decorated with embroidery, lace or rick rack trim. Checks, plaids, and stripes were the most common styles. The house dress evolved into a prettier and more complex design as the decade progressed such that women also wore it when going out to tea parties or shopping.
A house dress was commonly worn with a handmade apron made of a tough and durable material like heavy cotton, denim or gingham.
1920s Work dresses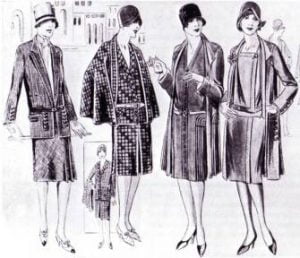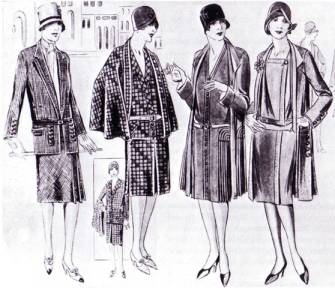 More women were getting into manual labor in the 20s in jobs such as maids, seamstresses, nurses, and factory workers.  Many of these jobs required women to wear uniforms over their day dresses. Uniforms that did not require over clothes were usually designed in the trending designs.
1920s Evening wear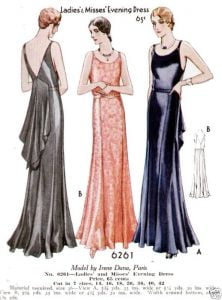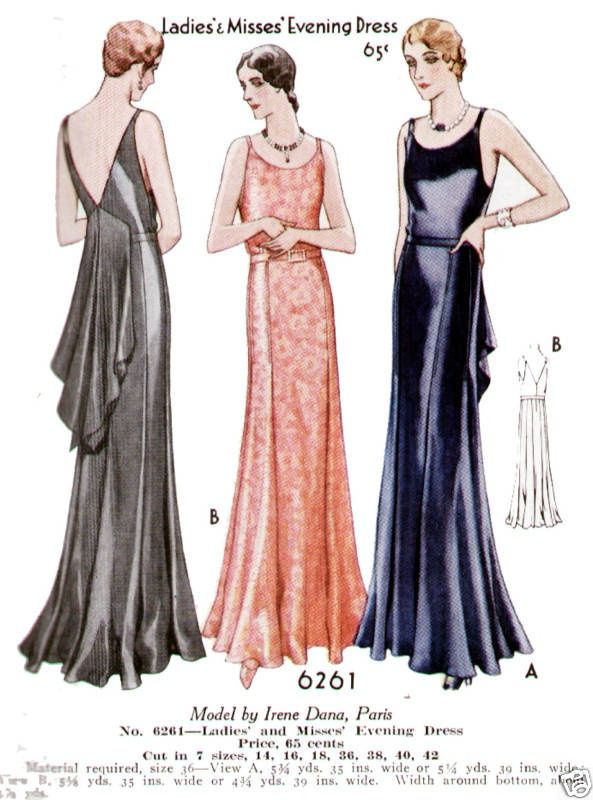 Evening wear was glamorous and decorated with sequins, beadwork, and rhinestones. Silk was the ultimate fabric for expensive evening wear.  The 20s evening dress was more complex in design than the frock style day dresses. The 'Robe de Style' evening dress with its long full skirts was feminine and different from the boyish frocks worn at home and works. Some designs featured panniers to make decidedly feminine.
1920s Flapper dresses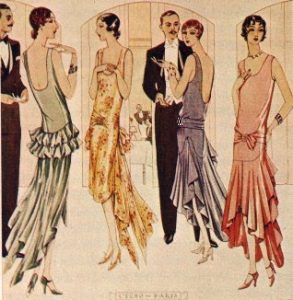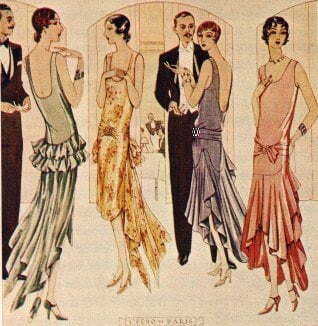 The flapper dress was perhaps the most iconic garment of the 20s. This bare-sleeved dress hung from the shoulders and dropped to the knee level. It had a dropped waist with a sash belt. The hemline was decorated with beadwork or frills to make it swish as the wearer danced. The raised hemlines were also ideal for kicking it up on the dancefloor.
1920s Sport wear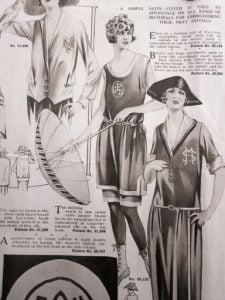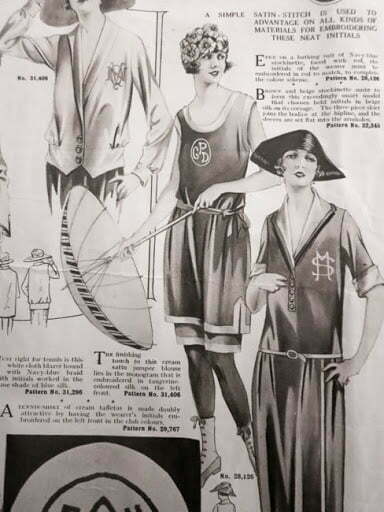 One of the biggest trends in fashion in the 20s was the emergence of sportswear. Women took to sports, especially tennis. The short skirts worn on the court influenced designs off the court with designers like Patou making designs that could double up as casual day wear. Tennis skirts worn by stars like Suzanne lenglen were short and pleated for freer movement. This design was soon copied in for other dresses including the late 20s flapper dress whose highlights were knee-length hems and bare sleeves.
1920s Traveling dresses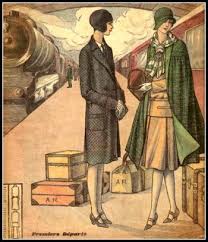 Motorized transport was becoming more accessible in the 20s. But it was a dusty or muddy affair because roads were unpaved in many parts. Trains and cars were hot, unventilated, and dusty. People wore clothes that would be practical rather than fashionable when travelling. A cotton dress with an overcoat and low-profile shoes were most sensible when travelling in these conditions. A pair of pajamas or a night slip would also be required for an overnight journey.