Brief Introduction of 50s Housewife
The life of the average married woman in the 50s was very different from that of today's woman. Most women, who had worked during the Second World War, were fired to make space for returning men and found themselves as housewives once more.
For the 1950s woman, her day-to-day chores kept her physically active. She had been prepped at home and school for her roles and responsibilities. Her pride and pleasure came from looking after her home and family.
Going to the gym was needless for the 1950s housewife as most of her chores required intense labor without the help of today's gadgets.
The man was considered the head of the house and her role as a wife was to support him and make things at home run smoothly. She was responsible for having dinner ready, before her husband comes home, preparing herself and the children, clear away the clutter, minimize the noise, make her husband comfortable and listen to him.
Her daily chores involved stressful activities like throwing back the covers, open the blinds and windows, freshening up, make breakfast, clean up breakfast, straighten up the living and dining room, dispose of garbage, prepare for dinner, wash clothes, handle errands, take the kids to school, etc.
In summary, how to be a 1950s housewife, involved a willingness to take care of your marriage and home by keeping it clean, making delicious meals for your family, being a part of your community, and still look good by dressing the part.
WHAT DID A 1950S HOUSEWIFE WEAR?
Fashion taste for the 50s housewife tilted towards simple and elegant. It was simple enough to let her get the job of the day done, but still elegant to showcase her as a proper and decent wife.
There was a focus on looking polished and proper clothing for the housewife in the 50s as she had to represent her husband and her home. The housewife's appearance was linked to her husband's success, causing a big boom in the fashion industry as women spent more time searching for the latest fashions.
The 50s housewife was no stranger to simple day dresses. Full skirts and small waists were the silhouettes of the 50s but the house dress or casual day dress had more freedom than going out dresses. The most popular day dress was the button-down shirtwaist dress, a crowd-pleaser style worn by Lucille Ball in "I Love Lucy".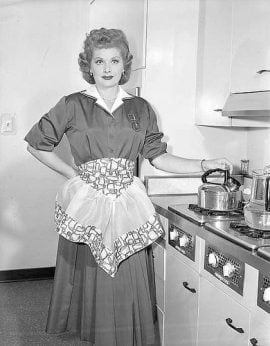 The typical 50s housewife dress often had sleeves, a modest high neckline and came in fun small prints such as checks, stripes, floral and plaid. Some had cutoffs and collars like a 50s uniform dress. The housedress was very simple and comfortable.
To start the day, a 50s housewife put on her house dress and vintage apron in the morning. This was usually her only outfit for the day unless the need to run errands or visit with friends arises. The housedress was normally a buttoned-down shirt dress made in the swing style, with a light petticoat, apron, and flat shoes.
The Full skirt made it easier to carry out her daily activities, like make beds, vacuum, tend to the children. Though for dinner, when the housewife anticipates the return of her husband, she's known to change into something more elegant. A wiggle dress, fancy apron, pearls, and high heels are worn by the housewife in expectation of her husband's return for dinner.
Leaving the house, the housewife could continue to wear her housedress with the addition of fancier accessories, such as a pearl necklace, gloves, hats, earrings, and possibly trade the flat shoes for heels.  This was appropriate for visiting friends or light errands while shopping in the city, meeting up with her husband, going to appointments or another public outing required nicer dresses with well-coordinated accessories.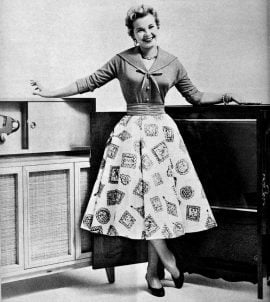 Going out dresses were either swing dresses or pencil dresses. These dresses were more trimmed than day dresses and were made of heavier cotton, wool, tweed, rayon, corduroy, and synthetics that mimicked natural material.  Going out dresses were dresses that made housewives feel their best, they had contrasting collars, buttons, and belts, smaller pockets, full pleats, large bows, etc.
During summer both house dresses and going out dresses became more fun. Polka dots, border prints, gingham, pastels, sleeveless dresses, and sailor themes, brought women back to their childhood. The button-down shirt dress was worn over pants, jumpsuit, rompers, and shorts to create a playsuit look.
Hair scarves were also part of the housewife's attire; they were mostly wrapped around her head. Most housewives went around with pin curls in their heads and a scarf wrapped around them until they dry.
Housewives also wore comfortable and elegant underwear. The bullet or full coverage pointed bra was worn to accentuate the bust and let the housewife move around the house, performing her duties with comfort while presenting the desired look.