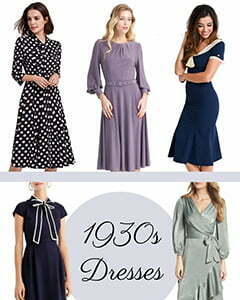 1930 brought about the introduction of fitting tea-length dresses that gave women a feminine look, completely erasing the 'boyish' loose look that the women of 1920 had on. It was an era of revolution for female dresses and ready-to-wear fashion. Dresses were cut in ways it accentuated the curves in flattering ways. Dresses had high necklines with loosed shoulders, uneven hemlines, flutter sleeves, and ruffles.
1930 was a year the screen and most dresses were popularised by beautiful stars who wore luxurious sensual silk and bias-cut gowns. Some of which were Greta Gabo, Jean Harlow, Rita Hayworth, and some other fashionable ladies. Thanks to some of these designs, our fashion sense today has improved. Let's look at some of the 1930s plus size formal dresses women rocked!
Prior to the 1930s, plus-sized women avoided dresses with ruffles. Most of these dresses were made from crepe, chiffon, silk, satins, and draped velvet. They were cut on the bias, had their hems touching the floor, fitted at the waist and hip, and flowed to the floor. While some of these evening dresses had modest neckline, the back was left bare. Women preferably wore Long-sleeved floral and satin clothes during the fall or winter period. They had flutter sleeves or cape top, and this provided the covering many plump ladies wanted. Sheer embroidery dresses were the preferred summer tea dresses. Bessie Smith modeled fashion for the plus size ladies and she rocked these dresses well.
Bias-Cut 30s Dresses
The bias-cut gowns accentuated the curves of women in 1930. These bias gowns allowed for comfort and more stretch, and this replaced the drop waist dresses of the 20s. Bias-cut dresses became popular during this era for their ability to bring out the curves of the plus-size woman while covering her body and were majorly made with silk material. Actresses like Greta Garbo and Rita Hayworth were seen in bias-cut dresses as it was a comfortable and sensual fit. These inspired women and more women took up wearing bias-cut gowns. Madeleine Vionnet, a French couturier, was one designer that popularised bias-cut dresses.
Vintage Dresses With Long Sleeves
'Stouts' (that was the name plus size women were called back in the 30s) women usually wore dresses with sleeves and jackets. These sleeves still had puffs with wild shoulders, and most of them were made from crepe, which is a thicker material than silk. Vestee cuts and V-necks were frequent in plus size women dresses. High neckline and gathers were not for women in the 30s as they avoided dresses with these features. Shocking pink was the color of the decade, and Elsa Schiaparelliinvented it.
Plus Size Maxi Dresses in 1930s
With bias-cut gowns being the trend of the decade, plus-size women did not fail to rock theirs too. Yet, as the decade was known as the period dresses started having attention on their shoulders, maxi dresses started replacing straight flapper dresses meant for shimmying on the dance floor. The banjo sleeves and the butterfly sleeves were in vogue in the 30s. Many plus sizes women had maxi clothes made for them. During this time new inventions such as the zip were made and this made dresses cheaper and easy to make
30s Halter and Backless dresses
These were a trendy piece of clothing back then because it exposed a part of the backline of the ladies' body. Stout (plus size) women did not hesitate to get these on as it was in vogue then. Again Madeleine Vionnet was the designer that made this piece of clothing famous.
Even though the average income of most families was slashed due to the great depression at that time, women still managed to look great. It was almost as if their fashion sense heightened and wasn't affected in any way by the depression whatsoever. Most people resorted to the D-I-Y routine as they sort for cheaper materials to make them look good during the era. The great depression did not halt the fashion trend in any way during this period.
The 1930s plus size formal dresses for women were so beautifully adorned that while some of the fashion and TV icons were much slimmer, plus size women still drew their share of attention at events.