The 80s were brash, loud, and a time for upstart designers in the world of fashion like Tommy Hilfiger. Women had firmly established their place in the corporate and political world with the election of British Prime Minister Margaret Thatcher. The ladies' power suit was the preferred day to look for many events during the day; launching a product or attending a late evening fundraiser. The look was big-shouldered and neutral colored. An evening cocktail party called for a cocktail dress that also pronounced your presence with a touch of sparkle from sequins.
fLAPPER pARTY dRESS FROM Diana influence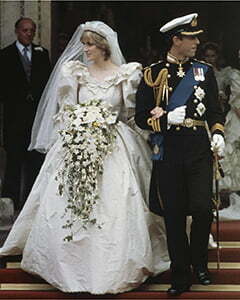 One of the most fashionable women in the 80s was Princess Diana of the UK. Women around the world followed her fashion cues closely from the moment she started dating Prince Charles. Her wedding in 1981 was a huge global TV event with almost a billion people tuning in. It was a fashion bonanza. The wedding dress had an amazing 10,000 pearls and cost a record-breaking $115,000. Women were hugely impressed by the crowd of royals and high society who turned up in their best designer cuts.
Diana was perhaps the most photographed woman in the 80s. The fashion world noted every item she wore with fascination. She was the trendsetter when it came to women's fashion. Her influence was felt in party dresses for women with the low-waist pirate look, in power suits with her shoulder-padded designer suits, and feminine blouses with bright colorful patterns. Her signature 'Diana look' with a winged hairstyle and elegant sparkling jewelry is trendy to date.
1980s Party Power suit FOR wOMEN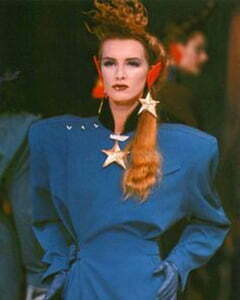 The power skirt suit was a must-have item for all ladies even those without an office job. It was worn for important events such as child christening, church service, and school events. It was either a matching jacket and a skirt or a jacket and a full dress. The dress and jacket were cinched at the waist, and the dress reached knee level. The look was big-shouldered and a bit masculine.  The fabric was expensive, fashion designer suits from houses such as Versace going into thousands of dollars.
1980S Lamé party dresses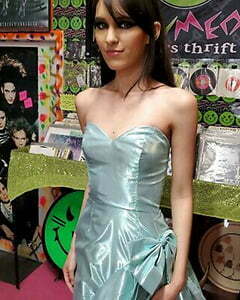 This was one of the most popular party dress designs in the 80s, and almost every woman had one. The lamé dress came with ruffles and was usually one shoulder. It was shiny and unmissable with bright colors. It was the favorite party dress for older women, worn with high heels and classy accessories.
Teenage girls partied in prom-style dresses that were dramatic and attention-seeking. They came in a variety of designs; short mini dresses, long gowns, and ball gowns. All had exaggerated embellishments including puffy sleeves, rainbow and metallic colors, and giant bows.
Off-shoulder dress tops IN 80S pARTY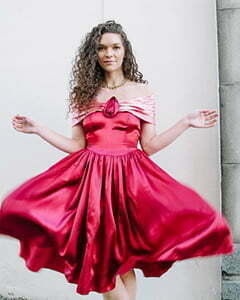 The off-shoulder dress top was one of the most popular fashion fads for hippy teenage and college girls. This was a strapless chiffon or silk blouse that reached mid-thigh like a mini dress but loose around the body. An elastic band at the waist retained the feminine form. It was worn with a pair of tights for a night out. Some bold girls would wear it alone, showing lots of leg skin.
1980S sTYLE Minidress
The mini remained trendy in the 80s. Girls rocked it with denim jackets and colorful jelly shoes. Most girls color contrasted by wearing a pastel-colored minidress and a blue or black denim jacket or turtleneck.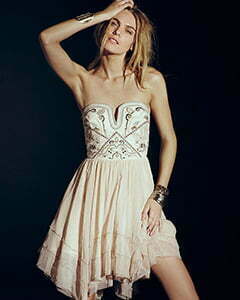 The 80s look for women was bold and dominating featuring;
Bold Colors announced a presence. Yellows, lime greens, pinks, and metallic shiny colors on cocktail dresses and evening gowns. Bolder designs featured gold, cobalt, fuchsia, and magenta to add a bright sparkle
Sequins were a rollover from the party dresses of the 80s. Clubbing was still a huge thing for many young people. Sequins on evening wear made the wearer stand out under the lights, while they were also eye-catching under normal lights for a cocktail party. A sequined cocktail dress was an appropriate party dressing if you had to catch up with friends in the early evening and hit the clubs later in the night.
The 80s clubbing scene was vibrant with pop superstars such as Michael Jackson and Tina Turner, and an upcoming hip-hop scene with a trendsetter such as Queen Latifah. There was plenty of choice for whatever party dress you picked.